It's time once again for the obligatory Top Books of the year. This year I decided to stick with a Top 10 since I felt like 16 best books of the year was too much. The rules are pretty much the same as last year. All of these books I read, reviewed and were released in the year 2016. All of these books I gave 5 stars, to be as fair as possible only one book per author, and since it was really hard to rate them in a particular order, THESE BOOKS ARE IN NO PARTICULAR ORDER. Now, without further ado on to my Top 10 Books of 2016! (As always you can click on the book covers to read my full reviews of these books!)
1. The Darkest Magic (Spirits and Thieves #2) by Morgan Rhodes
Starting off this list is a book that either I don't think a lot of people have heard of or were turned off by because of the first book in this series. I'll be the first to say that while I enjoyed A Book of Spirits and Thieves immensely, I was pretty annoyed with the fact that most of it takes place in modern day Toronto and not in Ancient Mytica, which was pretty much the stronger storyline anyway. That being said, this second book more than makes up for it. It brings together the two plot lines wonderfully as well as gives a much more expansive look into the Ancient Mytican storyline. While I'm saddened to hear that book 3 has been postponed so the author can finish writing the Falling Kingdoms series, I'm still waiting with bated breath to find out what happens next.
2. Ghostly Echoes (Jackaby #3) by William Ritter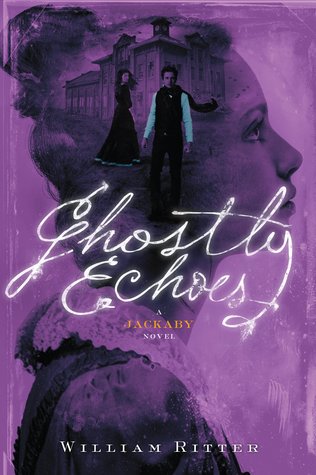 When I first heard that the third Jackaby book would be delving into one of the more anticipated mysteries of the series, the death of Jenny Cavanaugh, I couldn't wait to get my hands on it, and this was before Beastly Bones was even released. So when I got my hands on a sneak peek of the first six chapters or so I thought I'd be taken with it right away, however, I became concerned when I wasn't swept away by the free preview I got. I shouldn't have worried though because once I got the full book in my hands it became my favorite Jackaby mystery yet, I'm both highly anticipated and secretly mourning the release of the final book in this series, however after this series is complete I can't wait to see what Ritter will come up with next.
3. The Head of Medusa (Elementals #3) by Michelle Madow
When I first began the Elementals series by Michelle Madow, I thought it was a fun, almost guilty pleasure-like series. However, as the story developed I really grew attached to the world and it's characters and by the time I got to this third book, The Head of Medusa, I was fully invested in what was going on. I was so excited to find that I genuinely loved this installment, the pacing is a bit weird, with almost two parts to the story, but that's really easy to get over and this makes for one of, if not the most, intense installments in this series.
4. Traveler (World of Warcraft: Traveler #1) by Greg Weisman
If you told me at the beginning of 2016 that I'd give a spot on my Top Books list to a branded book like World of Warcraft: Traveler, I would have said you were crazy. It's not that branded books can't be good, it's just that usually they aren't. However, earlier this year my cousin, who's a big WoW nerd, found out about this series and asked me to read it. It's written by a producer and writer of one of our favorite shows, Young Justice, and so I decided to give it a try. While I would say some remedial knowledge of Warcraft lore is preferable, this book does do a lot to make sure you understand what's going on without holding your hand through it. The story is completely engrossing and I'm bummed that more people aren't reading it because it's truly phenomenal. I can't wait until the next installment comes out.
5. The Inquisition (Summoner #2) by Taran Matharu
Even though the beginning of this book made me sick with disgust at how the villains of this series behaved as they ganged up on our hero, in a way that perfectly showed off what bigoted and spiteful demons they truly are, I can't fault this book for that. In fact, I commend this author for not holding back on the trials and tribulations that our "good" main characters have to go through. After the extreme trials Fletcher has to go through, in the beginning, we see this world open up so much more than we got to see in book one, and led to one of the best cliffhanger endings I've ever read.
6. Lady Midnight (The Dark Artifices #1) by Cassandra Clare
Going into 2016 I wasn't as excited for Lady Midnight as most of my friends were. Granted I hadn't read City of Heavenly Fire yet and I barely remembered the plotline of City of Lost Souls, however after getting those two books read this year my curiosity was piqued for this first book in a new Shadowhunters series. I was not let down when I started this book and I ended up devouring it in just a couple of days. I can't wait to continue this series in Lord of Shadows, and while it's still a bit more than a year away, I'm greatly looking forward to the start of the Last Hours series.
7. The Hidden Oracle (The Trials of Apollo #1) by Rick Riordan
After a slightly disappointing, although still thoroughly entertaining, start to the Magnus Chase and the Gods of Asgard series, I was pretty apprehensive thinking that if a new series was far too reminiscent of Percy Jackson for my liking that a new Camp Half-Blood series might just be too much. However, I was pleasantly surprised to find that I loved nearly every minute of this adventure. Apollo is a hysterical narrator and I was excited to find that Riordan didn't lean too much on old characters, but instead seem to be using them as cameos and guest appearances as necessary which leave the series still feeling new and fresh.
8. Simon Thorn and the Wolf's Den (Simon Thorn #1)
I picked up a copy of Simon Thorn and the Wolf's Den at BEA 2015 and because I'd read some of Carter's previous works I thought I'd try her first foray into the world of Middle-Grade lit. I was not fully prepared for what I read. This book has a remarkably similar feeling to a Percy Jackson adventure, but instead with shapeshifting animals instead of Greek demigods. The world building of the series is phenomenal and I didn't expect a Middle-Grade book to keep me on my toes as much as this one did, but there were twists that shocked me to my core in this adventure. I can't wait for the sequel and in fact, I'll be reading it here shortly but first I want to give this installment a quick reread!
9. Dawn of Ash (Imdalind #6) by Rebecca Ethington
There were two Imdalind books that came out in 2016, this one, Dawn of Ash, and the conclusion to the entire series, Crown of Cinders, why I chose to include this one, other than simply enjoying it more, is how much was packed into it and how much it impacted the entire series. There are things that go down in this installment that I would never have expected. This book definitely derails the series in a fantastic way and if you haven't begun the Imdalind series by now you really should it's inexplicably amazing.
10. Burning Shadows (The Order of the Krigers #2) by Jennifer Anne Davis
Much like the Imdalind series, there were two Order of the Krigers books published this year, though both met the criteria to be included on this list. In fact, if I wasn't able to finish Burning Shadows by the end of the year, or if I didn't like it as much, the first book, Rise, would have taken its place on this list. Without giving away the plot of Rise I have to say that this installment takes this series to a whole new level. There were a few things I was worried about going into this installment, and yet I shouldn't have feared, Davis does and expert job and manipulating her characters and their predicaments to feel relatable and entertaining. I'm chomping at the bit to find out what happens at the end of this trilogy.
Final Bits: Much like last year I've left decided to keep the Honorable Mentions category for books that I read this year that probably would have made the main list had they been published in 2016. Each of these books was special in their own way, and each of the had a rather large impact on my year. I loved the messages about the consequences of spreading rumors and the power of lies seen in The Truth About Alice. Hidden Huntress led to some of the most intense world building I've read all year. The Exiled Queen led to a tipping point and compelled me to binge read the rest of the Seven Realms series as soon as I could. Finally, All In was one of the most shocking and unpredictable books I've ever read. Anyway, those are my top books that I read and reviewed over the last year. What books made your list? Leave a comment or link to your list below! Happy New Year everyone!