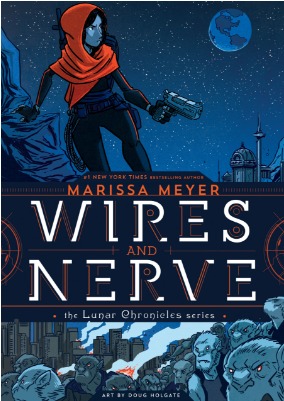 Release Date
: January 31, 2017
Author
: Marissa Meyer
Illustrator
: Douglas Holgate
Publisher
: Feiwel & Friends
Length
: 240 pages
Source
: Library Book
In her first graphic novel, #1 New York Times and USA Today bestseller Marissa Meyer follows Iko, the beloved android from the Lunar Chronicles, on a dangerous and romantic new adventure -- with a little help from Cinder and the Lunar team.





In her first graphic novel, bestselling author Marissa Meyer extends the world of the Lunar Chronicles with a brand-new, action-packed story about Iko, the android with a heart of (mechanized) gold. When rogue packs of wolf-hybrid soldiers threaten the tenuous peace alliance between Earth and Luna, Iko takes it upon herself to hunt down the soldiers' leader. She is soon working with a handsome royal guard who forces her to question everything she knows about love, loyalty, and her own humanity. With appearances by Cinder and the rest of the Rampion crew, this is a must-have for fans of the bestselling series.
Review:
Protagonist
: IKO! Okay, so I would have picked this graphic novel up with the premise of it being a continuation of the Lunar Chronicles alone, but the fact that Iko, a fan favorite and utterly amazing character, is the main protagonist of this story really drove home the selling point, and it does not disappoint. As we know from the main Lunar Chronicles titles, Iko is the adorkable, overly excitable, and fashion forward sidekick of Cinder, but in this story, we get to see a more serious side of her. Seeing the prejudices that Iko, and all androids for that matter, go through is heartbreaking. Iko isn't taken seriously and is treated as a second class citizen simply because she's an android, but at the same time it's not hard to see how these prejudices came into existence. Iko is one of a kind, or at least seems to be, and while we know she has true and real feelings, most people that come across her wouldn't. That still doesn't help the sting I felt whenever someone treated her like a simple machine or overlooked her as one of the "Heroes that Saved Earth." While this story doesn't go too in depth with Iko's struggles it's something that's sort of always there in the background and even bleeds into the romance of this story.
Romance
: Since this graphic novel goes by so fast there isn't all that much of a romance to explore, but there are definitely some seeds planted for a romance between Iko and the ever annoying royal guard Kinney. This is a romance that evolves from a place of annoyance on both sides. Kinney believes that Iko has no real feelings due to the fact that she's an android, and because of those outspoken prejudices Iko doesn't like him that much either. Like I said there isn't all that much interaction between Iko and Kinney, but there is a very poignant scene between the two towards the end, and a promise of more interactions in the next (and final?) installment.
World Building
: While this is Iko's story as she takes down the rogue lunar wolf soldiers on Earth, there are elements of this graphic novel that act as an extended epilogue of
Winter
. There were actually quite a few things in
Winter
, especially toward the end of the book, that I felt didn't get the closure they needed. This story definitely begins that closure for most, if not all, of those things. Like I've said ad nauesam, this story seems very short due to the fact that it's a graphic novel, however, we do get to see the entire crew of the Rampion on this journey, some more than others, and learn about what they've been up to since the end of the main series. There are some great moments that highlight some of these characters' struggles after the takedown of Levana, such as Kai struggling with the public believing that his feelings for Cinder are real, and Thorne's issues with his parents. These struggles aren't fleshed out all that much but it's a nice touch to each of the characters. As for the story of wolf hunting Iko, it's one that's but fun and yet still retains a serious edge to it. While some of the wolves Iko hunts down are doing so mainly on instinct there are some that are far smarter, though still make you want to punch them in the face on how dense they can be, and pose a larger threat to everyone's favorite android.
Predictability
: I've been trying to figure out if I should even do a predictability segment given how short this story is, but at the same time there were definitely moments that I was able to predict and others that caught me completely off guard. I would say that in terms of twists, this doesn't have nearly as much as a traditional novel, but there were things that made me gasp and nearly led me into a tirade. There were also key moments in this story that were easy to predict, yet I never felt like they weren't intentionally done that way. Overall, while the lack of content in this story made for a story with far fewer twists than standard size novels, it does have a few surprises in store.
Ending
: As is the theme with this review it seems, the story is so short, at least in terms of content and story, that I feel talking too much about the ending would do more harm than good. I will say though that I need more of this story. I'm kind of sad that Meyer has stated that it will only be a duology. Honestly, even if the main story is complete after the next installment, I could almost read these characters forever. If Meyer were to decide to expand this series and come up with new adventures for Iko as well as featuring cameo appearances from the Rampion crew I would devour every single volume.
Illustrations
: So, this is my first formal graphic novel review so I figured I should talk about the art in the book, and perhaps how it impacts the story, however, I'm not sure how effective it will be since I'm not sure I can properly articulate my feelings but I'll give it a try anyway. So right off the bat, it's obvious that the illustrations in here aren't super detailed full-color illustrations, but they are very visually appealing. In fact, while I was hoping for something more detailed when this project was first revealed, as I made my way further and further into the story I really enjoyed the cartoony look to the panels. The action in the story was very well represented with fantastic panels featuring our characters kicking ass, or sometimes attempting to. The illustrations add a different level of depth to the story that you wouldn't be able to find in a traditional novel and it lends itself very well to the story that Meyer is telling. Overall, I really did like the whimsical cartoon-esque illustrations, they went very well to the story, the world, and these characters.
Rating:
I loved this book so much that it hurt when it was over and I realized I'll have to wait at least an entire year for the next installment. Iko is a fantastic main character and I can't wait to see what's in store for the conclusion of this duology. P.S. I'm so happy Meyer decided to take the route of continuing the series in a graphic novel format instead of putting out graphic novel adaptations.