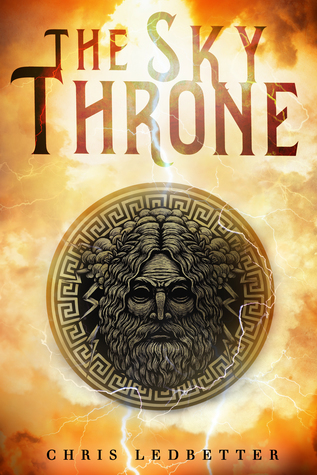 Release Date
: April 17, 2017
Author
: Chris Ledbetter
Publisher
: Month9Books
Length
: 300 pages
Source
: Ebook for Blog Tour Review
Duality dwells at every turn, and an adolescent Zeus will learn that all too well when Hyperion attacks his family on Crete.

When the dust settles, his mother is unconscious and his best friend left for dead.

Stacking epic insult upon fatal injury, Zeus discovers the woman who raised him is not his biological mother. But to ensure her safety while she recovers, a heavy-hearted Zeus leaves her behind to seek answers at Mount Olympus Preparatory Academia.

Zeus embarks on a quest to discover who ordered the attack on his home, avenge the death of his friend, and find his birth mother. When some of his new schoolmates vanish, Zeus's quest is turned upside down, and the only way to make things right is to access the power of The Sky Throne, confront a most dangerous enemy, and take his life back.

On his way to becoming king of the Greek gods, Zeus will learn to seize power, neutralize his enemies, and fall in love.
Review:
Protagonist
: Zeus, supreme ruler of the gods, started out as a prankster mortal, or at least that's how this story goes. After an attack on his family, Zeus learns some harsh truths about his life, and the only way he can be safe is by going to Mount Olympus Prep. There he hopes to discover more about who he is and why his family was attacked. Gah, I feel that this author did a spectacular job at showing off a young Zeus. I mean, don't get me wrong, in mythology Zeus isn't a hero, in fact, most of Greek Mythology's problem could have been solved if Zeus just kept it in his pants, but for a book that shows off a heroic Zeus, this was a fantastic job. First off are his flaws, Zeus has a great many and while they are shown a bit softer here, I do like the little references to the Zeus I'm most familiar with. Then we have his strengths, this Zeus is much more compassionate than the one we normally see in Greek Myths, but I like it, it humanizes his character a bit more in ways other than flaws.
Romance
: Another large characteristic is Zeus's lust for women. Granted, since this is a YA book, that lust is dampened quite a bit, but there are quite a few women that catch Zeus's eye. Now, honestly, I'm not quite sure where I stand on the romance in this book, because of how things ended up. Obviously, I won't give away spoilers, but for most of the book there seemed to be a love triangle blooming, and since I know my Greek Myths I knew more or less how it
should
end up, but how it did is another story. I guess all I'll say is that for the most part I really enjoyed the romance in this book. Zeus's bond with the women he romances is really strong and while I was a bit too distracted by how things end up in the myths, I can appreciate how they ended up in the story.
World Building
: My biggest annoyance with this book was how it's presented. I mean, I should have known what I was getting into when the synopsis talked about Zeus going to a prep school, but I wasn't prepared for just how much mix between modern day and Ancient Greece there would be. The thing is, mixing modern day ideals and colloquial themes into an Ancient Greek or fantasy setting is something that shouldn't bleed into YA, at least in my opinion. I loved that sort of thing as a kid, but as I grew up it all felt very cheesy and kind of lazy. This story could have been one of two things, a modern day story about an underdog sports team facing up against their fierce rivals, in a loose retelling of the Titanomachy, or a high fantasy retelling of the Titanomachy. However, even though I wasn't a fan of the mixing, it did kind of get to me and the plot of this story, maybe because of the weird mixing or maybe in spite of that, was super addicting, I read nearly all of the book in one sitting, which I hadn't planned on doing, because I needed to know what happened next. This isn't a by the books retelling on any level and so getting to a much broader and interesting take on a classic myth was exciting.
Predictability
: As I said this is by no means a by the numbers retelling. While I thought many times I would know where this story was going to go, with how this story is set up there were quite a few twists that I didn't see coming, mostly because I was clinging to what I know about Greek Mythology and didn't leave room in my brain to cover more creative ways this story could go. There was a fair bit of foreshadowing on a few things though and so while there was a great deal I couldn't predict, there were also some things that we very easy to predict.
Ending
: Another concern I have with this story was how rushed the ending was. I mean, this is a standalone, but there were ways I could have easily seen it become a series or even just a duology. While the real final climax of this story was great and had a lot of great action and tension, I didn't think it was the actual final climax until what I thought would be the final battle was kind of just swept away at the end.
Rating:
This was probably the review I've debated about the most. I mean, I stand by my rating, but there's a lot to this book that bothered me, but at the end of the day despite all that I really did enjoy this story and I actually loved the changes from the myths.
About the Author:
Chris Ledbetter grew up in Durham, NC before moving to Charlottesville, VA in 11th grade. After high school, he attended Hampton University where he promptly "walked-on" to the best drum line in the conference without any prior percussion experience. He carried the bass drum for four years, something his back is not very happy about now.
After a change of heart and major, he enrolled in Old Dominion University and
earned his degree in Business Administration. He's worked in various managerial and marketing capacities throughout his life. He taught high school for six years in Culpeper, VA, and also coached football.
He has walked the streets of Los Angeles and New York City, waded in the waters of the Atlantic and Pacific oceans, and climbed Diamond Head crater on Hawaii and rang in the New Year in Tokyo, Japan. But he dreams of one day visiting Greece and Italy.
Giveaway!
Giveaway Details:
1 winner will receive a 1-month subscription to Owl Crate, US Only.
a Rafflecopter giveaway