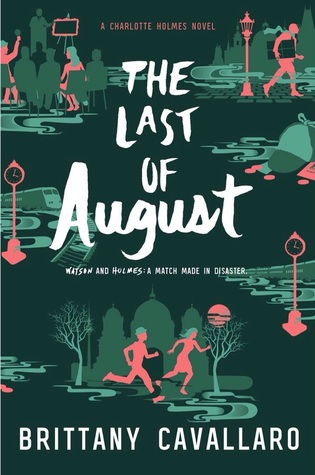 Release Date
: February 14, 2017
Author
: Brittany Cavallaro
Publisher
: Katherine Tegen Books
Length
: 336 pages
Source
: eArc from Edelweiss
Watson and Holmes: A match made in disaster.

Jamie Watson and Charlotte Holmes are looking for a winter-break reprieve after a fall semester that almost got them killed. But Charlotte isn't the only Holmes with secrets, and the mood at her family's Sussex estate is palpably tense. On top of everything else, Holmes and Watson could be becoming more than friends—but still, the darkness in Charlotte's past is a wall between them.

A distraction arises soon enough, because Charlotte's beloved uncle Leander goes missing from the estate—after being oddly private about his latest assignment in a German art forgery ring. The game is afoot once again, and Charlotte is single-minded in her pursuit.

Their first stop? Berlin. Their first contact? August Moriarty (formerly Charlotte's obsession, currently believed by most to be dead), whose powerful family has been ripping off famous paintings for the last hundred years. But as they follow the gritty underground scene in Berlin to glittering art houses in Prague, Holmes and Watson begin to realize that this is a much more complicated case than a disappearance. Much more dangerous, too.

What they learn might change everything they know about their families, themselves, and each other.
Review:
Protagonists
: While the majority of this novel is narrated by Jamie, and for the most part, he
is
the main character, as the story develops and after a certain couple of chapters I felt that if I didn't include Charlotte in the protagonist section as well that would be a disservice to the review. Both these characters are fantastically flawed. What I loved about their flaws are how real they are. It's not like a bunch of misunderstandings and misinterpretations that lead to a bunch of drama between these characters. It's the conscious choices they make and the things they want and fear that they have no control over that guide their stories in this installment. Jamie doesn't want to feel like a sidekick but a partner, however when August Moriarty appears on the scene, a man who is so much like Charlotte already that she views him as an equal and a man she'd previously fallen in love with, that causes Jamie to be mistakenly though understandably jealous and strike out on his own. Charlotte has a personal stake in this mystery and as a Holmes, she doesn't do all that well with personal stakes. One of Charlotte's biggest flaws is that she shares next to nothing with Jamie about the investigation and while she has a justifiable reason for doing so it leads Jamie to feel that she thinks she doesn't need him or that he's a burden. As I said we only get a couple of chapters that focus on Charlotte and while these chapters are certainly enlightening, I feel I can't delve too deep into talking about them and what we learn about Charlotte without giving crucial points of this book away. Despite all the flaws of these characters I really have grown to love them and while they do drive me crazy a lot of the time I really hope for the best with them.
Romance
: After I finished
A Study in Charlotte
last year, I didn't think there was all that much romance in it, however, when I went back to reread it before starting this installment, I felt as though I seriously missed something because there was a lot more romance in it than I remembered, even if it was more subtle than most YA novels. This installment has, even more, romance than the first and while it can be extremely frustrating at times, I felt that from a writing standpoint that it was handled very well. Romance is really where we see the flaws of Holmes and Watson shine, for lack of a better term. For Jamie he just wants to be with Charlotte however, she keeps on giving him mixed signals which frustrate him to no end. Charlotte is suffering from panic attacks and anxiety following her rape at the hands of Lee Dobson. Neither of these things is a flaw really, more elements of who they are, but how they react in response to these things is very flawed but at the same time neither of them is perfect. In fact, what aggravates me the most about this romance is that there isn't a simple solution. It's not as if a long talk will solve all their problems. while there were definitely fantastic moments to this romance, and moments that made me feel more than I've probably ever felt before, a lot of this romance is like pulling teeth, but it really works to add another layer of complexity to this story.
World Building
: It was a bit of a shock to move from a boarding school setting to a winter holiday traveling around Europe in this installment, however, I liked that it added a bit more diversity to the series, instead of Holmes and Watson constantly solving scandalous mysteries while at school. I loved following our heroes around Europe, mainly England and Germany, and while there wasn't all that much that we saw that wasn't a fictionalized house or building, I still felt the foreign local wherever our heroes went. In this installment, we once again find our heroes at odds with the Moriartys, but this time they have a Moriarty on their side as well. August Moriarty, who we learned was Charlotte's older tutor who she fell in love with and after he spurned her affections she framed for drug dealing, is finally introduced and he adds a very complex layer to this story. He's an unwitting rival for Jamie and a nice foil for Charlotte. Out of all of the characters in this series, he's probably in the best head space. As our heroes find themselves tracking down clues to solve this mystery, this time a mystery of art forgery and possible kidnapping than murder, things get more complicated as the mystery of who, what, and where become clearer.
Predictability
: Since this is a mystery most of the predictability lies within the mystery itself, however, I felt like we knew almost immediately who was behind the art forgeries, however, what I really liked was that this wasn't exactly about the who, but more the how. that being said, though, as far as the clues leading up to everything was concerned, there wasn't a whole lot of focus on the mystery, or at least not as much as I expected there would be. The mystery was still very captivating and there were a lot of unanswered questions that were confirmed as the story began to wind down from what I presumed was the final climax. There are many twists in this book, some that I saw coming but most that I was utterly blown away by. I really want to go more in depth and talk about how some of these twists made me feel, because a lot of them made me feel very intense emotions, but I don't want to spoil your experience of this book.
Ending
: This ending was not what I expected going in. I thought that for the most part this story would be tied off with a bit of a bow with a few breadcrumbs leading to where the next installment may be going. what I did not expect was what happened. Again, I really wish I could elaborate without spoiling anything, but I feel as though I've already said too much. This book has a very intense ending that made me cycle through so many emotions that I could barely handle it, then, of course, it tops things off by delivering probably the worst and simultaneously best cliffhanger I've ever read. Suffice it to say, that if this review doesn't come off as the most articulate it's because I'm still suffering from the near catatonia this book put me into.
Rating:
My God this book deserves all the stars. I'm still getting over where things ended up and where this story appears to be going. I'm cursing Cavallaro with every fiber of my being for making me feel so many things, not only in the end of this book but all throughout. I can't wait to see what fresh hell she's cooked up for the final installment. P.S. My guess it that the final book with have the name James or Jamie somewhere in it.