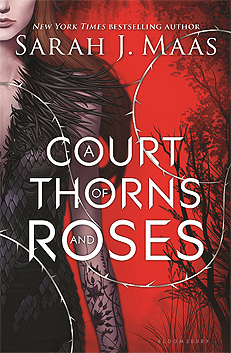 Release Date
: May 5, 2015
Author
: Sarah J. Maas
Publisher
: Bloomsbury USA Childrens
Length
: 421 pages
Source
: Purchased Book
When nineteen-year-old huntress Feyre kills a wolf in the woods, a beast-like creature arrives to demand retribution for it. Dragged to a treacherous magical land she only knows about from legends, Feyre discovers that her captor is not an animal, but Tamlin—one of the lethal, immortal faeries who once ruled their world.

As she dwells on his estate, her feelings for Tamlin transform from icy hostility into a fiery passion that burns through every lie and warning she's been told about the beautiful, dangerous world of the Fae. But an ancient, wicked shadow grows over the faerie lands, and Feyre must find a way to stop it . . . or doom Tamlin—and his world—forever.
Review:
Protagonist
: One thing I can always count on Sarah J Maas for it seems is a strong heroine. While Feyre isn't nearly the badass from the start that Celaena is in the Throne of Glass series, she definitely has a lot of promise. Feyre is just trying to keep her family together after her father loses all his money. One day while out hunting for food she kills a rather large wolf to keep it from killing her own prey. Soon though a beast comes by seeking retribution for the wolf, who's revealed to be one of the fae. Feyre leaves with him for Prythian, the faerie lands, and learns he is actually Tamlin, the High Lord of the Spring Court. Over the course of this story, Feyre's feelings and prejudices toward the fae slowly shift as she gets to know them. While she's not happy about being a captive and doesn't take it lying down, she begins to bond with the people of the Spring Court and with it's charming High Lord. While Feyre doesn't have the expert skill and battle prowess that Celaena has, she can definitely hold her own in a fight, and she's not easily swayed by pretty words and promises. I like Feyre's fire and am excited to see where the author takes her character.
Romance
: So the romance in this story is a bit complicated, but I can't talk about the complicated stuff without talking about something that I would consider to be a spoiler, so let's just talk about the simple stuff. I really enjoyed Tamlin and Feyre's romance. It's nowhere near an insta-love, though it did move faster than I anticipated, but every milestone in their relationship feels earned. Feyre and Tamlin do have some great chemistry, Tamlin's cool elegance mixed with Feyre's fire makes for some intense and even comical, though in a good way, scenes between the two. One of the things I really enjoyed about this romance was how realistically it showed not only the romantic love between these two individuals but the lust as well. You rarely see lust explored in a YA novel, though there are some reasons to not consider this YA, however, it's refreshing to see as it adds another layer to the romance that makes it feel more realistic.
World Building
: Beauty and the Best retelling! I mean those five words alone will probably convince me to read a book. This story does a great job at really driving that home while at the same time adding a fresh spin on the classic tale. I will admit that even though I was utterly entranced by the retelling aspects and the Fae world that we learn about over the course of many chapters while Feyre explores the Spring Court, the story itself does drag quite a bit. I mean, I'm not complaining too much because if the author had sped things up then the pacing of the book would have been off for a different reason. There is a bit of a speed up towards the end where a majority of the tension and action come to light. Even though I'm a huge fairy tale retelling nerd, I really did like the unique parts of this story as well. Even when we're past all the retelling elements there's plenty more story to tell and I can't wait to further explore this world.
Predictability
: I swear nowadays when I read a retelling it gets too much into my head and I have a hard time separating what I think will happen because I know the fairy tale or myth or whatever it is and I can't focus on the foreshadowing that staring me right in the face. Don't get me wrong, there are a great many things in this story that I was able to predict, but the more creative ways to adapt this story I was completely blind on. There were a few things brought up that I'm not sure got fully revealed so I'm wondering if that might come up in future installments or if I just flat out missed something.
Ending
: I was honestly surprised with how nicely wrapped up this ending was. I mean, I know it's a series and there are definitely some serious questions I want the answers to, but if this was it, if there were no sequels, I would be okay with that. That being said, luckily this isn't the end and we can explore this world and these characters further. The final climax of this story is seriously intense and I reveled in every minute of it. There's quite a bit that goes down and when the dust settles, well things happen. The cooldown period does feel very plateaued, and I wouldn't see a lot of people clamoring for the next book if they had to wait for some reason, but since I don't have to wait it's a nice time to take a breath before continuing on.
Rating:
While I did read this book slowly over a long period of time, while I was reading other books I might add, I did really enjoy this story and while it did slow down quite a bit in certain areas, I'm excited to learn more about this world and where our characters will go from here. Plus the retelling elements really didn't hurt my enjoyability AT ALL.