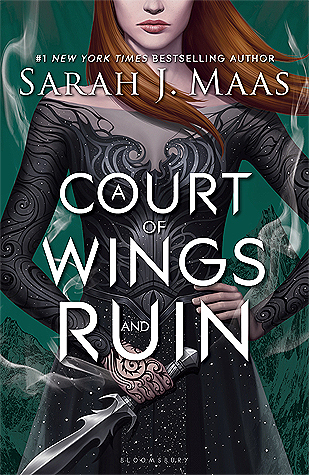 Release Date
: May 2, 2017
Author
: Sarah J. Maas
Publisher
: Bloomsbury USA Childrens
Length
: 705 pages
Source
: Purchased Book
Looming war threatens all Feyre holds dear in the third volume of the #1 New York Times bestselling A Court of Thorns and Roses series.

Feyre has returned to the Spring Court, determined to gather information on Tamlin's maneuverings and the invading king threatening to bring Prythian to its knees. But to do so she must play a deadly game of deceit-and one slip may spell doom not only for Feyre, but for her world as well.

As war bears down upon them all, Feyre must decide who to trust amongst the dazzling and lethal High Lords-and hunt for allies in unexpected places.

In this thrilling third book in the #1 New York Times bestselling series from Sarah J. Maas, the earth will be painted red as mighty armies grapple for power over the one thing that could destroy them all.
Review:
Protagonist
: Feyre, High Lady of the Night Court, entered the Spring Court with one purpose, to discover what Hybern is up to and what it will take to bring them down. Tearing apart Tamlin's Court in the process, well that's mostly for fun. As Hybern prepares to launch an attack and bring down the wall separating humans and Fae, Feyre will need every bit of power, cunning, and skill she's gained since killing a Fae wolf in the woods to even hope to come out of it alive. Feyre starts off this book as a wolf in sheep's clothing, playing her part in the Spring Court to gather as much information as she can on Hybern before escaping back to her home and her family waiting for her. I seriously love how far Feyre has come in this series and this installment is a testament to that. Her mind is keen and she'll do anything and everything to protect those she loves. I started off this series hoping that Feyre would be a badass warrior, but I think it was much more fun watching her transformation from Fae hating huntress to powerful Fae warrior.
Romance
: Honestly, there isn't all that much more that can happen with the romance between Feyre and Rhysand, their love is strong and it's been forged in even the hottest of fires, so going into this book there's not as much romantic development between the two, more moments that are a testament to their love. There are romances involving the friends and family around them, that while not taking center stage fill that void of needed development. I was surprised with how these romances unfolded over the course of the book and felt that where things ended up was very realistic and well written.
World Building
: Ah, the world building for this book is fantastic. We see so much more from this world than I expected to see and as we follow Feyre's journey we venture back to places we've already seen with new information and context to show just how intricate and amazing this world is. We learn more about the history of this world, what went down in the last war, and how the past can help shape the future. Even with how much more we get to experience this world, there's still so much more to discover and I cannot wait for future installments in this series, no matter who they follow to discover even more about this rich and wonderous world.
Predictability
: Dear lord, there are a lot of twists and turns this story takes. Many of the twists have some sort of foreshadowing to them, to help them feel more real and so we as readers don't interpret them as Deus Ex Machinas that undercut how amazing this story is. There are also plenty of twists that have no foreshadowing, twists that had there been any foreshadowing would have ruined it in some ways or another. Now I won't say that there aren't any moments that felt a bit too convenient or that I felt shouldn't have gone a different way, but looking at everything as a whole those moments are so small in comparison that I don't mind them at all.
Ending
: The ending of this book played out in so many ways that I wasn't expecting. At its core, the ending is how I've always hoped it would be and yet how things transpired and how the war with Hybern turned out, in the end, I have to say I never quite saw it all coming. The final climaxes of this book were phenomenal, every moment of it fraught with tension and wondering. There are quite a few plot points that weren't wrapped up in a nice and neat little bow. Things that I could easily see becoming the focus of future installments and while I bask in how amazing this arc to the story ended, I also cannot wait to see what else has yet to come.
Rating:
As far as "final" books in series go, this book was spectacular. It hit all the right notes and while there are definitely things left hanging off a cliff, this arc of the story ended in an epic, non-idyllic way that spoke to me on so many different levels.