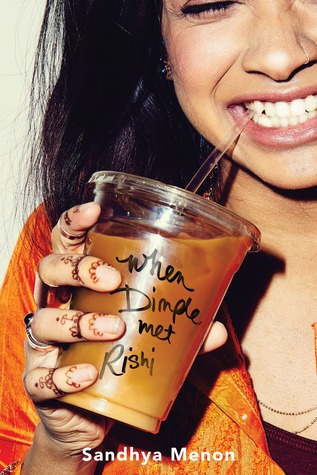 Release Date
: May 30, 2017
Author
: Sandhya Menon
Publisher
: Simon Pulse
Length
: 380 pages
Source
: Review Copy from Publisher
Dimple Shah has it all figured out. With graduation behind her, she's more than ready for a break from her family, from Mamma's inexplicable obsession with her finding the "Ideal Indian Husband." Ugh. Dimple knows they must respect her principles on some level, though. If they truly believed she needed a husband right now, they wouldn't have paid for her to attend a summer program for aspiring web developers…right?

Rishi Patel is a hopeless romantic. So when his parents tell him that his future wife will be attending the same summer program as him—wherein he'll have to woo her—he's totally on board. Because as silly as it sounds to most people in his life, Rishi wants to be arranged, believes in the power of tradition, stability, and being a part of something much bigger than himself.

The Shahs and Patels didn't mean to start turning the wheels on this "suggested arrangement" so early in their children's lives, but when they noticed them both gravitate toward the same summer program, they figured, Why not?

Dimple and Rishi may think they have each other figured out. But when opposites clash, love works hard to prove itself in the most unexpected ways
Review:
Protagonists
: Dimple Shah wants nothing more than for her parents to let her attend this summer program for aspiring web developers called Insomnia Con. However, her parents only seem to want her to find the I.I.H, Ideal Indian Husband, but when the topic comes up, they relent and tell her it's a good idea. Are they finally trying to see her side of things? Rishi Patel wants to make his parents proud. As the firstborn boy in his family, he knows that it's his duty to get married and start producing grandchildren for his parents. Rishi finds comfort in his family's customs, so when his parents bring up the possibility of an arranged marriage, he's on board. First, though, he has to go to a web development camp and woo her. I was nearly instantly taken with both these characters and I was so entranced in their separate and intermingling character plots. At first, I thought this would mostly be Dimple's book, and it definitely starts out that way a little, but it quickly becomes evident that this story belongs solely to no one character. I loved how both characters grow and change with the help of the other and provide a different take on how they see their lives.
Romance
: I LOVED the romance in this book. As this story unfolds the romance begins to move slowly, and what I think I loved most is that the author showed that romance and chemistry aren't all about the defining moments of a relationship, or steamy kisses and quick "I love yous" it's about the little moments. The things you notice about another person that they might not have noticed themselves, the way their smile can affect you, and how love isn't this all consuming monster of a thing. Sometimes love comes slowly, building up until the dam bursts open. I really loved what the author did with the romance in this book, it was so easy to get swept away in it.
World Building
: I honestly don't know what to write here. I mean, the two main focuses of this book for me, at least in the world building department, are that the story is about two Indian American teenagers, but as I don't have a lot of experience with traditional Indian families I cannot comment on the accuracy of the portrayal, though since the author is Indian, I'll take her word for it unless told otherwise. I did like all of the little call outs to Indian culture and how it affects both of our main characters lives, for good or bad. I also liked watching Dimple and Rishi on a college campus, learning about web development, going to events at the college, etc. I did something similar while in high school, though it didn't cost me or my mom $1,000, it brought me back to those times and I felt the author did a magnificent job of showing off the program and how those who haven't been to college look at it.
Predictability
: So, there were a great many times throughout this book that I didn't know where things were going. At the beginning, I wasn't sure whether or not Dimple and Rishi would form a romantic relationship. They could have just stayed friends and I probably would have liked it just as much. There were so many times that I doubted my own predictions because the author could have totally, and sometimes does, subverted some classic rom com tropes and I would have been okay with it, more than okay sometimes.
Ending
: Ah, the ending of this book. I don't know if there's a final climax to this book really. I mean there is, but not in the way I was expecting, or have come to understand final climaxes. Everything in this story comes to an amazing head and it's really the final chapter that I nearly broke down. The final chapter reads as a sort of epilogue to this book. It's really well written and it just sucked me in and I couldn't help shedding a few tears. When I finally finished the book, much like with the last book I read, all I wanted was more. I know this is a stand alone but I want to see where these characters go next.
Rating:
I loved this book so much! Everything about it sucked me in and I couldn't help but love it. I can't wait to see what this author writes next. (Update! It turns out that there will be a companion novel about Rishi's brother and I cannot wait!!!)