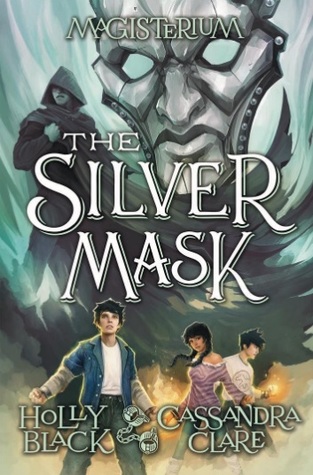 Release Date
: October 10, 2017
Authors
: Holly Black & Cassandra Clare
Publisher
: Scholastic Press
Length
: 240 pages
Source
: Review Copy from Publisher
A generation ago, Constantine Madden came close to achieving what no magician had ever achieved: the ability to bring back the dead. He didn't succeed . . . but he did find a way to keep himself alive, inside a young child named Callum Hunt.

Now Call is one of the most feared and reviled students in the history of the Magisterium, thought to be responsible for a devastating death and an ever-present threat of war. As a result, Call has been imprisoned and interrogated. Everyone wants to know what Constantine was up to-and how he lives on.

But Call has no idea.

It is only when he's broken out of prison that the full potential of Constantine's plan is suddenly in his hands . . . and he must decide what to do with his power.

In this spellbinding fourth book of Magisterium, bestselling authors Holly Black and Cassandra Clare take us beyond the realm of the living and into the dangers of the dead.
Review:
Protagonist
: Callum Hunt has been revealed to the entire mage world as the reincarnation of Constantine Madden, The Enemy of Death, and now he's in the Panopticon with seemingly no way out. That is until he's broken out and given the chance to achieve what many believe to be his destiny. I really enjoyed Call's character development in this book. A majority of this development is truly facing the fact that he has the soul of the Enemy of Death inside him and what that means for who he is as a person. It's a really fascinating journey and I loved seeing Call learn more about who he was and figuring out just who he is and can be.
Romance
: This is by far the weakest point of this book, and while it's not a big element to this story it was very disappointing. In this book, Call gets a new love interest, and it comes completely out of the blue and honestly feels very forced. I mean I think there might have been a touch of foreshadowing in previous books, but nowhere near enough for it to not feel forced and on top of that there is next to no chemistry with these characters, thus there was no reason for me to root for them. I mean, even Call and Celia had more chemistry.
World Building
: The majority of this book's world building revolves around Constantine Madden and his goals. I don't want to give that much away, but I will say that we see more about the world outside of the Magisterium, and get a deeper look inside the minds of the villains of this story. Honestly, that's pretty much it. I mean, the story was immensely enjoyable at times, but most of the time it was just sort of a middle area in terms of enjoyment. This is a very short book and because of that not too much happens. There are a few big developments over the course of the book and again we do get a deeper look at this world, these characters, and where the story is headed, but I just couldn't help but feel that either the authors are saving the bulk of things for the last book, or they've sort of lost steam for this series.
Predictability
: This book definitely had its moments. I mean, on the whole, I knew more or less what was going to happen, either the story didn't do such a great job at foreshadowing or the book just followed a fairly simple premise, but that being said there were some fantastic moments in this book. There are things that happen in this book that either shocked and thrilled me or chilled me to my core.
Ending
: So much like the previous installment, this ending was the most twisted and topsy-turvey part of the whole book. The final climax was fantastic, while not quite the action sequence I was hoping for it was fraught with tension and was very moving. Everything after well let's just say that I'm left with a lot of questions and a cliffhanger that will make the next year not so happy.
Rating:
I heavily debated this rating, I mean, I gave the last book four stars only because of the messy romance that this series has, and honestly continues to have, but in the end I felt I had to knock off another star because I didn't feel that the authors put their all into this book and while I'm optimistic for the finale, it's a very cautious optimism.