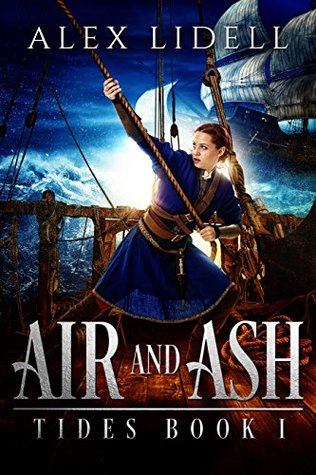 Release Date
: September 8, 2017
Author
: Alex Lidell
Narrator
: Kaitlin Bellamy
Publisher
: Danger Bearing Press
Length
: 6 hours & 57 minutes
Source
: Review Copy for Tour
Master and Commander meets Tamora Pierce in a seafaring adventure of duty, love, magic, and a princess's quest to protect her kingdom on her own terms.

After a lifetime of training, seventeen-year-old Princess Nile Greysik, a lieutenant on the prestigious Ashing navy flagship, sails into battle with one vital mission—and fails.

Barred from the sea and facing a political marriage, Nile masquerades as a common sailor on the first ship she can find. With a cowardly captain, incompetent crew, and a cruel, too-handsome first officer intent on making her life a living hell, Nile must hide her identity while trying to turn the sorry frigate battleworthy. Worse, a terrifying and forbidden magic now tingles in Nile's blood. If anyone catches wind of who Nile is or what she can do, her life is over.

But when disaster threatens the ship, Nile may have no choice but to unleash the truth that will curse her future.

AIR AND ASH is the thrilling first installment of the TIDES series. Recommended for fans of Sarah J. Maas, Tamora Pierce, and Naomi Novik.
Review:
Protagonist
: Nile has spent most of her life on the water and loves nearly every minute of it, but after an important mission goes awry she's barred from the ocean and pushed toward a political marriage. Stealing away she enlists as a member of the first crew that will take her on. However, this crew is far different than her previous one and since (nearly) no one is aware who she is she cannot lean on her years of experience to outrank anyone. Honestly, I wasn't a huge fan of Nile. I sort of felt as though she is a bit too paragon for really any story. It almost always felt that she was right while everyone else was wrong and the only real adversity she faces is either because of the newly discovered magic she holds or proud or bigoted people not taking her seriously. I wish Nile was more flawed, that it would feel she has a lesson to learn here. I did feel as though sometimes the author would have Nile begin to learn something new or feel she was wrong, but I never felt that followed through.
Romance
: There honestly isn't all that much romance in this story, which is just fine, though there is a bit of a forbidden romance element here as there isn't supposed to be romantic fraternization among crew members, but again since there isn't much that romance that isn't much of a problem for me, at least not yet. I did really enjoy the romance between Nile and her suitor, it's slow burning and there were quite a few times I really found myself rooting for them and wondering how the whole romance thing would play out, I'm interested in continuing the journey.
World Building
: So, this part of the story is probably my biggest disappointment. I mean, sure there are a lot of great section to the book that flesh out the world and really give you a sense of understanding as to what goes on in the world and who thinks and believes what based on where they're from and that's all great, but the story itself just feels adrift. I wish I had a better handle on the heading for this story, by the end of this book there are so many different ways this story could go and I just wish I had some understanding of the true end goal of this series and Nile's journey, but as of now things just seem a little chaotic and lost.
Predictability
: Since I never had a full understanding of where the story would go, other than Nile's immediate need to be free and discover more about the forbidden magic of this world, I never had a great idea for where things were heading other than the vaguest of notions. That being said it did help have some fantastic twists and turns in this story. There were some fantastic moments that really took me by surprise and captivated me.
Ending
: So the final climax of this book is really well thought out and honestly quite intense. I instantly felt the weight of what was going on and the severity of the situation while I greatly admired. As the final climax came to a head I felt extremely invested in the outcome and the consequences. The cooldown period was nice though I do wish there was more attention paid to the world building and less on the romance, and the cliffhanger of this book, which isn't a huge one by any means, felt underwhelming.
Audio Book Notes
: The audio book for this story is fantastic. Like I've said in previous audio book reviews I'm not great at articulating how enjoyable an audio book is unless there's something really special about it, such as an outstanding narrator, ambient sound that mixes with the story, etc. Here, the narrator was the standout. She delivers a captivating performance and her distinct voices and range of accents were a joy to behold. Bellamy brings this world to life and it was near impossible to stop listening to her masterful performance.
Rating:
If I was rating the story alone, I would give it 3 stars or maybe less, but Bellamy's performance was superb and I had to hike it up to 3.5. Don't get me wrong this story has a lot of promise and I hope to eventually continue with the story and I am interested to see where this story goes.
About the Author:
Alex Lidell is the author of Amazon bestsellers AIR AND ASH and WAR AND WIND (Danger Bearing Press, 2017) and an Amazon Breakout Novel Awards finalist author of THE CADET OF TILDOR (Penguin, 2013). She is an avid horseback rider, a (bad) hockey player, and an ice-cream addict. Born in Russia, Alex learned English in elementary school, where a thoughtful librarian placed a copy of Tamora Pierce's ALANNA in Alex's hands. In addition to becoming the first English book Alex read for fun, ALANNA started Alex's lifelong love for YA fantasy books.
Website
⎮
Facebook
⎮
Twitter
About the Narrator:
​Kaitlin Bellamy is a freelance performer and acting coach residing in Central Florida, with a theatrical history spanning more than twenty-five years.
Since relocating to Orlando in 2012, she has worked at multiple theme parks and various theatrical venues, in a career style she calls "Buffet Performing:" or, the idea of keeping several jobs active at any given time, so she may pick and choose where to work, and life never gets boring. Her specialties include Shakespeare, Voice Acting, and Puppetry. But above all, she is passionate about the performing arts, and all they stand for.