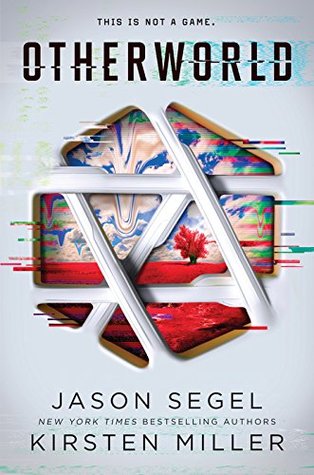 Release Date
: November 7, 2017
Authors
: Jason Segel & Kirsten Miller
Publisher
: Delacorte Press
Length
: 368 pages
Source
: ARC for Tour
The Company says Otherworld is amazing—like nothing you've ever seen before. They say it's addictive—that you'll want to stay forever. They promise Otherworld will make all your dreams come true.

Simon thought Otherworld was a game. Turns out he knew nothing. Otherworld is the next phase of reality. It's everything you've ever wanted.

And it's about to change humanity forever.
Welcome to the Otherworld. No one could have seen it coming.
Review:
Protagonist
: Simon has lived a rather lackluster life. Sure his parents are rich and ever since he was little he's had practically every toy he's ever wanted, but it all seemed like a mask. His friends weren't really his friends, his parents never seemed to care about him, and on the whole, he was extremely lonely. That is until he meets Kat, a girl who lives on the other side of the woods from his house. Years later he's run into some trouble with the law and he hasn't talked to Kat in months. To try and change all that he signs both Kat and himself up to beta test a new virtual reality game that sets off a chain reaction into secrets and lies about this amazing new technology. I actually really liked the character of Simon, I felt that all of his motivations felt incredibly realistic and while his life isn't exactly the most relatable, his overall character and how grounded he is, is very relatable.
Romance
: I was a bit cautious when it came to the romance in this story. I wasn't exactly sure if there was even going to be a romance in this story, but after learning about Simon and Kat's history and the things they've each gone through in their lives I was quickly drawn to their romance. Their romance isn't a HUGE part of this story as they're only around each other for maybe 20% of the book at most, but their romance is very easy to root for and the connection between these two characters is almost like nothing I've seen before. Don't get me wrong there are characters that I've rooted for harder than these two, but something about their connection and who they are both as individuals as well as together just establishes a rightness between these two characters.
World Building
: So, this is a story about virtual reality and how if it gets too real it can get very, very dangerous. This story reminded me a whole lot of both Sword Art Online (an anime) and Spy Kids 3: Game Over (a movie), all three stories deal with the threat of virtual reality but I really enjoyed seeing it in this form. The story takes place in both worlds, reality, and the Otherworld, so while the Otherworld type of stuff felt like adventuring in various locales and felt almost like a fantasy adventure, the stuff that takes place in reality, which eventually seeps into Otherworld, is more of a contemporary thriller, with a technological edge to it. Both worlds have their complexities, which really add to the depths this story goes.
Predictability
: This story (and by extension its authors) does a great job of subverting expectations. I think a lot of that has to do with the rather vague synopsis, but that really does help to catch you off guard with the numerous twists and turns this story takes before even getting fully set up. Once the story takes off it does keep you on your toes. As for my reactions to the twists this story has in store, well honestly I didn't see a whole lot of them coming and that made it a rather wild ride. There were things I had vague notions about that were cleared up and cemented but in a way that still managed to make my jaw drop.
Ending
: The ending to this story is really great. How the authors decided to tackle the final climax, or should I say climaxes? here was done really well. These characters really shone as the climax went down and I really loved where things left off at the end of it all. As for the epilogue, this story had, well it sort of felt unnecessary, I mean we do get to see some of the fall out from the final climax, but not enough that it couldn't have been in the beginning of the next installment.
Rating:
This story is an addictive and wild ride from start to finish. I can't wait to see where the authors are taking the characters and the story in the next installment!
About the Authors:
New York Times bestselling author Jason Segel used to have nightmares just like Charlie, and just like Charlie, he's learned that the things we're most afraid of are the things that can make us strong...if we're brave enough to face them. Jason likes acting, writing, making music, and hanging out with his friends. Sometimes he writes movies. Sometimes he writes songs for movies. Sometimes he stars in those movies and sings those songs. You might know him from The Muppets and Despicable Me. Your parents might know him from other stuff. Nightmares! is his first novel.
Some of my books are what librarians call middle grade. (Kiki Strike, Nightmares!)
Some should be kept away from small children and people with weak stomachs. (How to Lead a Life of Crime, The Eternal Ones, Otherworld)
I write some books with Jason Segel.
I've written quite a few books on my own.
My favorite food is cauliflower. (No joke.)
I will eat almost anything. And I'm weirdly proud of it.
I believe New York City is the most magical place on earth.
I love Dolly Parton and David Attenborough. Equally.
I cannot sing or play any musical instruments.
I'm obsessed with sewers and sanitation systems.
I once broke into a Mayan temple with my brother, Spike.
Spike is an alias. It's not his real name.
I also have a sister. She prefers to remain anonymous.
We have the same birthday.
I think that's all you need to know.
Giveaway!
3 winners will receive a finished copy of OTHERWORLD, US Only.
a Rafflecopter giveaway