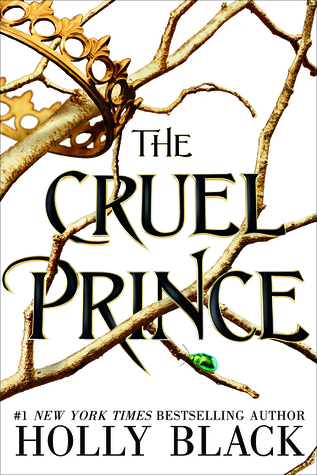 Release Date
: January 2, 2018
Author
: Holly Black
Publisher
: Little, Brown Books for Young Readers
Length
: 384 pages
Source
: ARC from Goodreads Giveaway
Of course I want to be like them. They're beautiful as blades forged in some divine fire. They will live forever.

And Cardan is even more beautiful than the rest. I hate him more than all the others. I hate him so much that sometimes when I look at him, I can hardly breathe.

Jude was seven years old when her parents were murdered and she and her two sisters were stolen away to live in the treacherous High Court of Faerie. Ten years later, Jude wants nothing more than to belong there, despite her mortality. But many of the fey despise humans. Especially Prince Cardan, the youngest and wickedest son of the High King.

To win a place at the Court, she must defy him–and face the consequences.

In doing so, she becomes embroiled in palace intrigues and deceptions, discovering her own capacity for bloodshed. But as civil war threatens to drown the Courts of Faerie in violence, Jude will need to risk her life in a dangerous alliance to save her sisters, and Faerie itself.
Review:
Protagonist
: When we're introduced to Jude in the prologue, she's still a normal little girl in the mortal world. She has a twin sister, two loving human parents, and a half-sister who has some odd characteristics. Once the story gets started, however, Jude's been in the Faerie world for ten years, over half her life and strives to fit in, even though she knows as a mortal she will never truly find her place in this magical world. I liked the character of Jude a lot, Faerie is her home and it really shows in in motivations throughout the book and over the course of this book she truly comes a long way. While Jude does grow over the course of the book, one thing I really appreciated was that she never felt out of character as she developed. Every choice she makes and move she takes feels very in line with who she is. She's a spitfire that you don't want to get on the wrong side of and has her own talents that shine through in this story.
Romance
: So, the romance in this book is a bit too complex to talk about without giving certain elements away, and since Jude's romance isn't even discussed in the synopsis I don't want to talk about it too much either. There is an element of romance to this story, and I really enjoyed how it factored into the overall plot of the book. Sometimes I feel as though the romance in a YA book is either too twisted and tied into the main plot that it distracts from the big picture or is practically a filler subplot that could be cut out of the story and almost nothing would change, however in this story the romance, while a smaller part of the tale, is woven together with the main story in way that just fits well with everything going on in this tale.
World Building
: So, I've read a fair amount of Faerie stories and series, but never one quite as magical and intensive as this one. Since Jude belongs to the house of the High King's general she's already in a position where she can be close to the politics of the realm. It isn't until later in the book however that she becomes very entwined with the unrest in Faerie and the story and by extension, the world, really begin to come into their own. I don't think I've ever read a Faerie story with this much political intrigue and definitely not one where our main character is completely human. It's Jude's humanity that really brings this story to life as we can truly see just how dangerous a game she is playing and just how high the stakes are for her as a character living in this world. The world itself is beautifully complex and call outs to Black's other Faerie books make for some fun points of interest throughout the story. This book can be rather dense at times, but never in a way that feels sluggish or unnecessary, it's dense in a way that makes you feel that you're getting more out of this book than there is, a ten-page chapter can feel just as rich and sprawling as three chapters from another story.
Predictability
: Going into this tale I had a lot of preconceived notions about how the story was going to unfold, and honestly, I was dead wrong, but the fun part about that was that I never quite knew what would happen next. Even when I thought I found my footing in this world, soon enough that would be upended, I had quite a few out of the box and crazy theories about what would happen and was even more surprised when some of those theories or elements of some of those theories would actually come to pass. The author never over-explains or over foreshadows the story which leads to some amazing, and still completely fitting, twists to the story.
Ending
: So, I'm trying to figure out how best to explain this ending without inadvertently giving everything away. I mean, the ending to this story is fantastic and I kind of just want to leave it at that. I will say this though, going into the final stretches of this story I wondered if this series might be a companion novel series. While I knew there wasn't enough time to completely tie up Jude's loose ends with the number of pages left, even with how densely rich this story could be, but even if the story were to shift focus to a different character it wouldn't be that hard to wrap Jude's story up through their eyes. That being said, by the end of the story it was clear which direction the author would be taking and even though there is a bit of a plateau at the end, the wait until the next book will be a very difficult one.
Rating:
This is a masterpiece of a book. While it might not be the fastest paced book, it's one that will hook you in and yank you along on a ride of political intrigue, espionage, and the will of the human spirit as Jude finds herself embroiled deeper in the world of Faerie than she ever thought she'd be.
Giveaway! (International)
Prize: One (1) ARC copy of The Cruel Prince by Holly Black
a Rafflecopter giveaway