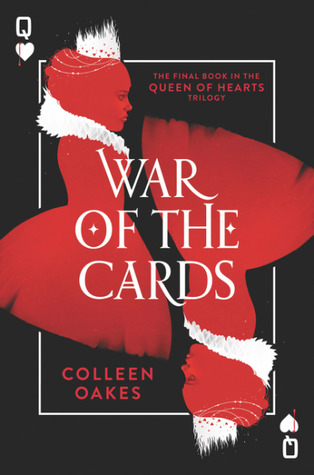 Release Date
: November 7, 2017
Author
: Colleen Oakes
Publisher
: HarperTeen
Length
: 352 pages
Source
: Purchased Book
The final book in the twisted YA trilogy re-imagining of the origin story of the Queen of Hearts.

Dinah has lost everyone she ever loved. Her brother was brutally murdered. The wicked man she believed was her father betrayed her. Her loyal subjects have been devastated by war. And the boy she gave her heart to broke it completely.

Now a dark queen has risen out of the ashes of her former life. Fury is blooming inside Dinah, poisoning her soul and twisting her mind. All she has left is Wonderland and her crown, and her obsession to fight for both. But the war rages on, and Dinah could inherit a bloodstained throne. Can a leader filled with love and rage ever be the ruler her kingdom needs? Or will her all-consuming wrath bring Wonderland to its knees?

This is not a story of happily ever after.

This is the story of the Queen of Hearts.
Review:
Protagonist
: Dinah feels as though she's lost everything in her life, her mother and brother are dead, her kingdom was viciously taken from her, and now the boy she loves doesn't love her back. The fury growing within her is more volatile than ever as she heads off to go reclaim her crown. I really liked seeing more of Dinah's dark side in this installment, while there's still a bit of a moral compass there, she's closer than ever to being a villain and I soaked up every minute of it. I really enjoyed the complexity of Dinah's character and how the choices she makes in this story affect the rest of her journey. Even though she's destined to become the cruel and villainous Queen of Hearts there are things about Dinah's future and about where she ends up by the end of this story that really caught me off guard and surprised me.
Romance
: So, I have to say that I really loved how the author handled this romance from the very beginning. Even though Dinah's feelings for Wardley feel very presumptive and obsessive since the very beginning, it's obvious she does truly care for him, and I love that the author showed that even though he wants to he can never feel that way about her. It felt obvious from the beginning that that rejection would be what set her off and ignited her fury, but the nuances of the how everything comes together and just how far Dinah's feelings go really surprised me. This romance, or lack thereof, isn't over yet and even though Dinah's heart is crushed, that doesn't mean she'll give up.
World Building
: So, going into this book I expected it to end with a hardened and furious Dinah taking the throne and ushering in the reign of the Queen of Hearts. I expected that to be where this story ended, but Dinah becoming Queen is just the beginning. A lot of this book deals with Dinah's reign and her struggle to be a good leader that Wonderland needs. Even though I had different ideas for where this story would end going in, I loved how this all unfolded more and more. Okay, so in my review of the previous book in this series I decided not to let the fact that the connections between this series and
Alice's Adventures in Wonderland
are extremely thin affect my rating of the story, however, there's one connection in this story and a sort of justification for why it's so different that really bothered me. I mean, it all just sort of fell apart for me and cemented the feeling that this series would be better without the ties to Lewis Carrol's books.
Predictability
: So, as I said before this book turned out drastically different than I initially thought, but in addition to that there are a lot of amazing twists and turns in this book. I mean, there's one that even though I was able to predict it relatively early, when things started happening related to that twist, I was so excited to see the path to its revelation. Everything played out perfectly and even though I knew the main twist, how everything came to be was still a revelation that I was excited hearing. There are a few other great revelations and while the predictability of those varies, I never felt like any of the twists lacked impact or were extremely easy and almost boring to predict.
Ending
: So, I'm not quite sure how to talk about the ending of this book. I mean even if I don't give away specifics if I say things ended for Dinah like I expected then it's a spoiler, mostly, and if I say they didn't end up the way I was expecting, well that's also a spoiler. I will say this, the final climax of this story is amazing and much less action-packed than I expected. There is an epilogue to this story that ties up all the loose ends, while (possibly unintentionally) creating some new loose ends. I enjoyed the epilogue a lot and really enjoyed where and how the author chose to end this story.
Rating:
I want to give this book five stars. You have NO IDEA how much I want to give this book five stars because the story is fantastic and it definitely doesn't fit the YA mold in the best possible way, but it REALLY didn't need to be tied to
Alice's Adventure in Wonderland
in any way. The connection is so thin, mainly being names and titles, and the justification that we get for it in this book, while I like the concept, doesn't work with just HOW different everything is.