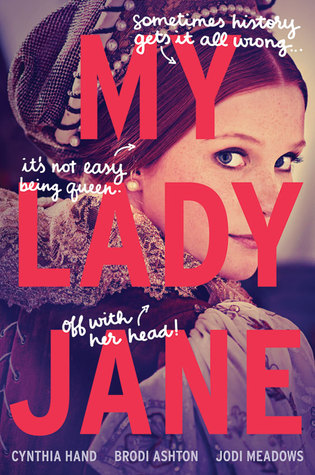 Release Date
: June 7, 2016
Authors
: Cynthia Hand, Brodi Ashton, & Jodi Meadows
Publisher
: HarperTeen
Length
: 512 pages
Source
: Purchased Book/Library Audio Book
Edward (long live the king) is the King of England. He's also dying, which is inconvenient, as he's only sixteen and he'd much rather be planning for his first kiss than considering who will inherit his crown…

Jane (reads too many books) is Edward's cousin, and far more interested in books than romance. Unfortunately for Jane, Edward has arranged to marry her off to secure the line of succession. And there's something a little odd about her intended…

Gifford (call him G) is a horse. That is, he's an Eðian (eth-y-un, for the uninitiated). Every day at dawn he becomes a noble chestnut steed—but then he wakes at dusk with a mouthful of hay. It's all very undignified.

The plot thickens as Edward, Jane, and G are drawn into a dangerous conspiracy. With the fate of the kingdom at stake, our heroes will have to engage in some conspiring of their own. But can they pull off their plan before it's off with their heads?
Review:
Protagonists
: Oh my lord, these protagonists are fantastic. Jane is a witty and stubborn girl who won't just stand there and be told what to do, by society or anyone. She's a spitfire who can get into trouble and her stubborn streak won't always get her where she needs to go, and honestly can put her in danger at this time of political turmoil. Edward always felt like he was made to be a king, however, once he leaves his gilded tower, he may find that he isn't best suited for the job and that he may not be the great king he thinks himself as. G spends his days as a horse, but he has the heart of a poet and true romantic. He can't change his form at will as other
Eðians
seem to be able to do, and after getting married to Jane Grey he may be more frustrated with her than his condition. As I said, I loved all these characters, not all of them are perfect, in fact, none of them are perfect, but it's their imperfections that make them such joys to read about.
Romances
: This isn't an overly romantic book by any means. There is romance in this book, in fact, there are multiple romances in this book, but even though they factor into the story in some very large ways, they don't' have much of a heavy presence, which I loved. Somehow, some way, these authors were able to convey romances that felt truer than many I've read before, but somehow did it in less time. It's a marvel. Don't get me wrong, I loved the romance when it showed up and things between Jane and G, as well as Edward and his love interest, felt so real and it didn't take much before I was rooting for each couple.
World Building
: I'm a sucker for Tudor England, and even more so for things that involve either Henry VIII, Anne Boleyn, and/or Queen Elizabeth I. I didn't know who Jane Grey was before reading this book, I didn't much care except for that this story, that I'd heard nothing but positive hype toward, featured her. When I found out who she was and what part (however small) she played in history, I was nearly chomping at the bit to read this book and I'm so happy I finally did. This book is set in a world where there is contention between Verities and
Eðians
, these are allegories for Catholics and Protestants respectfully, and honestly, this way was more fun and far more whimsical as
Eðians
have the ability to change into animal forms, though it seems other than that there is no more magic in this world. The way the authors tell this story, as it truly did feel like I was being told a story and not just because I mostly listened to the Audio Book, has so much humor and excitement folded in. I can't believe how many times I laughed while reading this book. I knew it was a comedy, but I never fully grasped how until I started this story.
Predictability
: When I first started this tale I thought I was able to very easily catch onto some twists that I wasn't expecting to be revealed until after the midpoint of this story. Then, quick as a cat the twists played out much earlier than I expected and I was left flabbergasted. Honestly, other than a few things I wasn't able to predict much at all in this book. It's not as though there were huge game-changing twists in this book, mostly things followed the status quo for a YA novel, however that doesn't mean that it didn't veer left or right when I wasn't expecting it to.
Ending
: The final climax of this story is amazing, it really is a testament to each of these characters, their strengths, their weaknesses, and how far they've come over the course of this story. It was exciting and full of tension and suspense as things were coming to a head. This is a standalone and as such everything was tied up by the end. This doesn't exactly mean everyone had a happily ever after, but I was never left feeling as though there was more to this story to tell.
Rating:
I never expected this book to live up to the hype. I heard it was funny, witty, and exciting and while I expected to like it, I ended up totally loving it. From the writing style, the humor, and the phenomenal characters, this was such a quick read for me because I literally couldn't put it down. (Maybe not literally, but pretty darn close!)