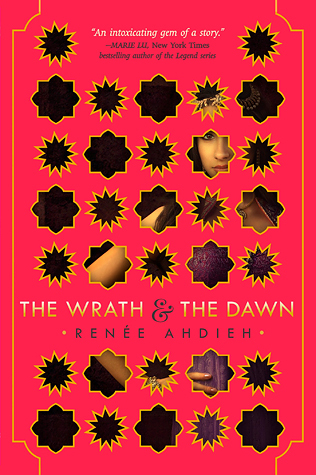 Release Date
: May 12, 2015
Author
:
Ren

é

e Ahdieh
Publisher
:
G.P. Putnam's Sons Books for Young Readers
Length
: 404 pages
Source
: Gifted Book
One Life to One Dawn.



In a land ruled by a murderous boy-king, each dawn brings heartache to a new family. Khalid, the eighteen-year-old Caliph of Khorasan, is a monster. Each night he takes a new bride only to have a silk cord wrapped around her throat come morning. When sixteen-year-old Shahrzad's dearest friend falls victim to Khalid, Shahrzad vows vengeance and volunteers to be his next bride. Shahrzad is determined not only to stay alive, but to end the caliph's reign of terror once and for all.





Night after night, Shahrzad beguiles Khalid, weaving stories that enchant, ensuring her survival, though she knows each dawn could be her last. But something she never expected begins to happen: Khalid is nothing like what she'd imagined him to be. This monster is a boy with a tormented heart. Incredibly, Shahrzad finds herself falling in love. How is this possible? It's an unforgivable betrayal. Still, Shahrzad has come to understand all is not as it seems in this palace of marble and stone. She resolves to uncover whatever secrets lurk and, despite her love, be ready to take Khalid's life as retribution for the many lives he's stolen. Can their love survive this world of stories and secrets?
Review:
Protagonist
: Shahrzad could do nothing as the Caliph of Khorasan married her best friend and killed her come dawn, but she won't let him win. Now as his new bride she plans on not only surviving but figuring out why her friend had to die, and killing her new husband. Shazi is a very strong-willed character who never lets someone else tell her what to do. she has a barbed tongue that will lash out whenever she wants and usually is some spectacular ways. Her development over the course of this first installment was done really well. Ever since Khalid started killing his brides Shazi has had one point of view on what must be going on inside the palace but given time she comes to understand things in a new light, but her search of the truth can get the better of her at times.
Romance
: So going into this I knew Khalid and Shazi were going to have a romantic relationship, I mean, come on it's a retelling of 1001 Nights, but what I wasn't expecting is for Shazi to have an established romance at the beginning of this story that wasn't Khalid, and honestly I wish she didn't. Don't get me wrong, I'm never immediately opposed to established romantic relationships or love triangles for that matter, but here it just didn't work for me because I could never take Tariq, Shazi's childhood love, seriously as a contender. While I did like Shazi and Khalid's romance a lot, in fact, it was one of those "hate to love" romances I can never get enough of for some reason, it wasn't without its problems, mainly that Khalid has killed his previous wives and Shazi, as well as the reader, doesn't know why. Still, while I wish there wasn't a love triangle, mainly because it doesn't feel necessary, nor was there enough time given to flesh out Shazi and Tariq's relationship in any meaningful way, I still wound up enjoying the romance between Khalid and Shazi and can't wait to see how everything plays out in the end.
World Building
: While I do love that we get shifting third-person points of view and that we do get to see outside the palace walls, I still felt like there wasn't all that much to see in this world. Don't get me wrong the palace is described beautifully and there was nothing about the world building that was confusing to me, it's just that, especially with Shazi's maidservant and friend, Despina being from a Greece-like country, I wish we had just seen a bit more of the world. This world never felt flat to me, I feel like the author did a fantastic job of letting the reader know how everything looked, it just felt very isolated and I feel that with the main focus being on Shazi, who spends nearly all her time in this story within the palace, It just never felt as full as it could have.
Predictability
: With this being a retelling, albeit an interesting retelling that changes up the main character's main motivation and gives her a more hardened persona, it was pretty easy to see where things were going. There were a few good twists here and there and I really did like how the answers to the main mystery were revealed over the course of the story. Looking back while there is a solid storyline through this book, there weren't a whole lot of subplots that really felt like they mattered beyond a certain point, I mean there are definitely things happening behind the scenes and in the shadows, but because the focus was on Shazi, whose story, since it was a retelling, didn't feel all that in jeporady or high stakes, nothing that happened with the other characters really felt like it mattered, or in one instant didn't make all that much sense until, maybe, the end.
Ending
: I have yet to read a conclusion to one of Ahdieh's duologies, so I don't know much about how she structures her stories and series on the whole, but I do really like how she decides to end things after the first book. Granted, I've only read the beginnings of two of her stories, but it seems like in both there's a big shift that happens, something that opens up the storytelling in a way that there wasn't all that much access to in the first installment. The final climax of this book went about as well as could be expected and honestly while I'm not a big fan of how Shazi's story ends in this installment, I'm hoping for great things come part two!
Rating:
I can't believe I'm giving this book 4 stars, I mean I enjoyed this book a whole lot, but after having some time to think about it, for me at least, the love triangle, while I understand its role in the story, just fell flat for me, and the world felt sort of isolated. Still, though, this is an insanely fun adventure and I can't wait to see how everything comes to an end!