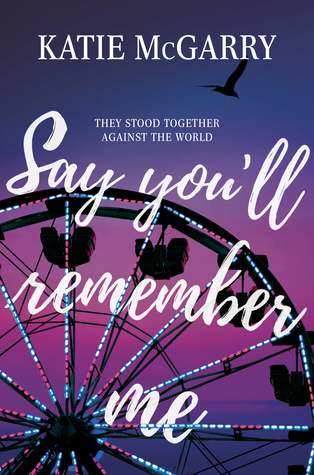 Release Date
: January 30, 2018
Author
: Katie McGarry
Publisher
: Harlequin Teen
Length
: 452 pages
Source
: Purchased Book
When Drix was convicted of a crime--one he didn't commit--he thought his life was over. But opportunity came with the new Second Chance Program, the governor's newest pet project to get delinquents off the streets, rehabilitated and back into society. Drix knows this is his chance to get his life back on track, even if it means being paraded in front of reporters for a while.

Elle knows she lives a life of privilege. As the governor's daughter, she can open doors with her name alone. But the expectations and pressure to be someone she isn't may be too much to handle. She wants to follow her own path, whatever that means.

When Drix and Elle meet, their connection is immediate, but so are their problems. Drix is not the type of boy Elle's parents have in mind for her, and Elle is not the kind of girl who can understand Drix's messy life.

But sometimes love can breach all barriers.

Fighting against a society that can't imagine them together, Drix and Elle must push themselves--Drix to confront the truth of the robbery, and Elle to assert her independence--and each other to finally get what they deserve.
Review:
Protagonists
: After serving time for a crime he didn't commit, Drix is just trying to get back to a normal life, but being the face of the governor's new Second Chance program isn't exactly life as normal for him. He can't stop thinking of the night of the robbery, why he was there, and who could have committed the crime he paid for. Elle is the governor's daughter, she's lived a sheltered life of privilege, however as Elle tries to pursue her passions, she realizes that her charmed life has been controlled by her parents. I love these characters so much and watching them find their place in the world. Their struggles to find themselves and figure out what they want out of life was so inspiring to read. Much like all of Katie McGarry's books, while the character development of these two characters is connected to their interactions and romance with each other, their development is influenced by so much more such as friends, family, and their own life experiences.
Romance
: The relationship between these two characters is fantastic. While their connection with each other is immediate, the chasm between them due to their circumstances feels endless. Because of that, even though their feelings for each other are obvious, they are sort of pushed apart. However, they won't let the world tell them how they should feel about each other and while there is a fair share of angst and self-destructive behavior on at least one of their parts, their romance is something to root for and I loved watching their story unfold. There are many times in this book that while I had a good idea how everything would turn out, I knew that these characters weren't going to be together without causing some collateral damage as they have just so many barricades in the way of their romance and while the end of this book isn't super idealistic, I was surprised at how many barricades they were able to get over, even if they ended up smashing a couple.
World Building
: First off, I really liked seeing the story from not only a guy who has been convicted of a crime and while he took a plea deal to get a lighter sentence, he's affected by those choices he made, even though he never actually committed that crime, but we also see a character whose father is a governor, who is probably even more controlled by her parents than Breanna in
Walk the Edge
, who has had to deal with playing the part of the perfect daughter, and while she believes in her father and his goals, has to figure out who she is. These are two backgrounds that we haven't really seen McGarry tackle in the past, though there are a few tell-tale hallmarks of this author such as the male protagonist having an extended family of friends to watch his back. I really enjoyed McGarry's commentary on the School to Prison Pipeline in this book (which plays a prominent role in the story) and thought that it was handled perfectly.
Predictability
: So with most books by this author, there are a few mysteries sprinkled throughout the story, whether they're larger mysteries like who really committed the crime that Drix took the fall for or smaller ones like someone who's been leaking things about Elle and a family friend making them seem like a couple. I do have to say that when it came to all the mysteries I had a pretty good idea what would happen, but there was always a wrinkle in there somewhere that would catch me off guard. As I said in the romance section, I wasn't sure how everything in this story would end, especially when it came to the romance, but that small bit of doubt really helped propel me through the story.
Ending
: As I said before, the ending to this story isn't idyllic. This isn't a contemporary where every small little loose end is tied up perfectly with next to no all out for our heroes. There are consequences that our characters have to deal with. The final climax is fraught with tension and after everything comes to a head, I was about ready to explode myself. There are a few dangling threads left at the end of this book, nothing too terrible, as the main components of this story are all tied up pretty securely, but there is a part of me that is sad that even though Drix has a rather large extended family and friends, that this is truly a standalone for now, and a book focusing on one of his "family" members isn't that likely.
Rating:
As someone who tends to love books by this author, I'm not surprised that I loved it. I feel what McGarry can do so well is to write characters with such depth that they come alive on the page, and that's definitely true of this book, I loved the characters and the story and I'm a little sad that this doesn't appear to be a new series as I want to know more about the side characters that we tragically didn't see enough of.