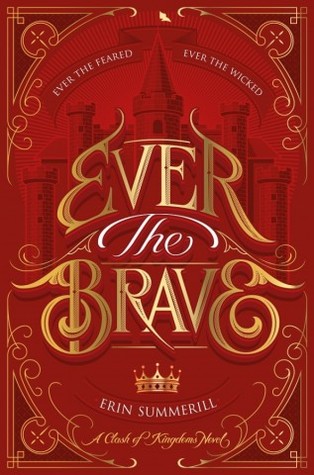 Release Date
: December 5, 2017
Author
: Erin Summerill
Publisher
: HMH Books for Young Readers
Length
: 464 pages
Source
: Purchased Book
Ever the Divided. Ever the Feared. Ever the Brave.

After saving King Aodren with her newfound Channeler powers, Britta only wants to live a peaceful life in her childhood home. Unfortunately, saving the King has created a tether between them she cannot sever, no matter how much she'd like to, and now he's insisting on making her a noble lady. And there are those who want to use Britta's power for evil designs. If Britta cannot find a way to harness her new magical ability, her life—as well as her country—may be lost.

The stakes are higher than ever in the sequel to Ever the Hunted, as Britta struggles to protect her kingdom and her heart.
Review:
Protagonists
: Unlike the first book in this series there are three narrators to this tale. Britta, after saving the king and her kingdom just wants to live on her father's land, her land, and live a simple life, but she still needs to hide her gifts and her tether to the king doesn't really make life easier for her. Cohen has been hot on the trail of the Spiriter who enthralled the king, but his trip into Shaerdan only leads to more questions as young Channeler girls have been disappearing from Shaerdan. Back in Malam, King Aodren is free from a nearly year-long thrall of the Spiriter and now hopes to be a king that his people would be proud of and respect, but with unrest still in his kingdom can he be the leader his people deserve? I love all three of these characters, even more so than in the previous book, and honestly, I wasn't expecting to like Aodren that much, but while I wasn't so keen on him toward the beginning he definitely wormed his way into my heart. Britta is such an amazing and strong character in this book and I loved seeing her grow and learn more about her gifts in this book as well as figure out her place in this world and where she belongs.
Romance
: Going into this book I wasn't a huge fan of how it seemed that the author was going to introduce a love triangle, especially since, while there is a third book in this series, this was the end of Britta and Cohen's story, so adding in a love triangle at this point felt very unnecessary and wasn't something I was going to take seriously, especially knowing, who the focus of book three is. That all being said, I actually really enjoyed the romance in this book, it can get a bit angsty and Cohen's jealousy and overprotectiveness can be insufferable at times, but one of the things I love about this story is that we have a character like Cohen who has these glaring flaws, but his development in this book is remarkable and while I won't say too much, I'm actually glad that the author added this little wrinkle to the story and really liked how he used the love triangle in a very interesting way.
World Building
: So... I'm a bit confused. As I looked back on both this and the first book in the series, something about the main villain's motivation doesn't make sense, in fact there are a few things that don't quite make sense, unfortunately since it all has to do with spoilers I can't exactly talk about it here, but I sort of feel like there was a disconnect somewhere in the villain's logic or I just missed something because I'm still not 100% certain of what they were trying to achieve. The world itself was fine, I mean, again there wasn't anything about this world to really make it pop, much like the first book, but I've sort of come to see that this series is much more about the characters than the world, which I'm not complaining about because the characters of this series are awesome. That being said though, the world does develop more and we come to understand the magic system more.
Predictability
: So, near the end of the previous installment there was a little bit of foreshadowing that I picked up on and thought it was maybe going to be a big revelation pretty far into this book, except, it was revealed early on in this tale, and worst of all, I never felt like that twist reached its full potential for the story. Looking back on this book there wasn't much I was able to predict as long as there was even a small bit of foreshadowing. The only times I was genuinely shocked by something in this book is if it came out of nowhere or nearly out of nowhere.
Ending
: The final climax of this book is spectacular. Where the final climax of the previous book was more subdued and full of revelations rather than action, this climax is chock full of magical action and combat. The cooldown period after all the excitement and tension does a fantastic job wrapping up this story and while there are still avenues to explore in this world, obviously, I was pleasantly surprised with how okay I was that Britta and Cohen's story ends here.
Rating:
While I feel this installment did a fantastic job when it came to the romance and really enjoyed what the author did there, the motivations of some characters, mixed with some seemingly obvious missed opportunities when it comes to one twist, disappointed me. This is still a fantastic adventure in this world and I'm excited to continue the story through another Point of View.