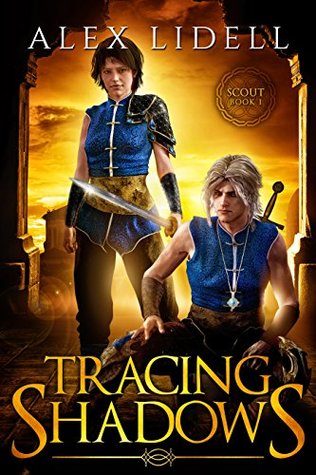 Release Date
: April 8, 2017
Author
: Alex Lidell
Publisher
: Alex Lidell
Length
: 312 pages
Source
: Review Copy for Tour
To protect the throne, seventeen-year-old spy Kali must play a male guardsman trainee by day and royal lady by night.

Orphaned and trained on a spymaster's remote estate, Kali is a scout who works alone in the shadows. But when a terror group threatens the Dansil throne, the king forces Kali to accept a mission at the palace or forfeit her sister's life.

Suddenly thrust into the light, Kali must infiltrate high society as the royal Lady Lianna while penetrating the servant ranks as Kal, a male guardsman trainee. It doesn't help that Trace, the harsh and enigmatic captain of the king's guard, is soon assigned as both Lady Lianna's palace escort and Kal's commanding officer.

As Kali edges closer to the truth behind the violent group's identity, she uncovers dangerous secrets that could bring her mission to a brutal end. A scout's job is to observe and report, never to engage . . . but if it means saving her sister and kingdom, Kali may have no choice.

TRACING SHADOWS, by Amazon bestselling author Alex Lidell, is the first novel in the Scout series. Perfect for fans of Tamora Pierce, Leigh Bardugo, and Sarah J. Maas.
Review:
Protagonist(s)
: The majority of this fantasy tale is told from the first person POV of Kali, a young scout, and spy who is assigned to the palace early in the story in an attempt to keep her kingdom from going into all-out war, oh, and her sister's life is on the line. Kali is an adept spy who can easily pass as either male or female which allows her to take up two roles in the palace, both as the king's newly arrive niece Lianna and a new guard recruit Kal. Kali is very much a lone wolf and has been conditioned to never rely on anyone as you can never be sure who is on your side. I really enjoyed watching Kali grow and develop over the course of this story, even at the expense of her pride on most occasions. Kali is a force to be reckoned with and while she makes plenty of mistakes and does a few pretty unlikable things she gets as good as she gives sometimes. Then there's the Violet of it all. See, even though this book is mostly told from Kali's POV, there are third-person chapters from the POV of Violet, the princess of Dansil, who is still struggling with the loss of her mother and the inattention she gets for not being the king's next in line. Violet's storyline goes to some unexpected places and it was really interesting to watch her character arc blossom over the course of the book.
Romance
: So, there's really not a whole lot of romance in this book. I mean, it's there, there's no denying that, but it doesn't really factor into the main plot all that much and most of the book focuses on establishing a relationship between the couple instead of diving head in, which I was very happy to see. The thing is though, I'm not a huge fan of the love interest, Trace, there are times when he can be pigheaded, stubborn, and sexist at times in this book, which is completely on purpose as Kali has none of it, but when I felt that a romantic relationship would start to form between the two, well Trace doesn't show his best side and while I'm sure that it's all part of his character development, it's hard for me to see these two together eventually, let alone root for them.
World Building
: Okay, so in the recent past I complained about a series's world not feeling unique enough, in fact, that series has a lot of the same tropes woven into as this one, the difference, this world feels so different. First off there's the POV it's coming from, a spy trained to ferret out secrets and who is tasked with being a spy within the palace walls. Then there's the almost cult-like religion, Children of the Goddess, then there are the stand out characters and their own personal arcs, there is so much about this series and this world that completely blew me away. I love the spy angle and the magic system is very interesting even though I don't quite understand it, that's okay because neither do most of the characters. I was actually really bummed when I found out, at the end of the book no less, that this is going to just be a duology, I really enjoyed the little we saw of this world and am sad that we don't get to explore it for longer, though who knows, maybe the author will write a spin-off farther down the road.
Predictability
: Looking back over the book I can say, without a doubt, that for the most part, this story did an excellent job of keeping me on my toes. In fact, of everything revealed in this story, I can really only think of one thing that I was able to predict and even then I wasn't 100% sure. I have to admit I was caught off guard by a twist more than I'm happy to admit, but it made for a very engaging and exciting story.
Ending
: So... where was the final climax? As this story was headed towards a close I was anxiously awaiting the final climax, whether that be a physical, action-themed brawl, or something more cerebral, I was waiting, and while there is a bit of tension at the very end, it felt like it was more happening around our characters rather than to them and without a true final climax this story just feels like it was cut short. Don't get me wrong the very end is intense and full of conflict, but much in the way a cliffhanger would be, since that's what it was, but without some sort of final challenge full of tension, something that the book had been building toward, it just sort of feels incomplete.
Rating:
I really enjoyed this book, I could barely put it down and was sad to see it end so soon. Luckily the wait for the next and final book doesn't seem too long. For the most part, I love this story, but I did have a few minor problems with it but I'm no less chomping at the bit for book 2.
About the Author:
Alex
Lidell
is the Amazon Breakout Novel Awards finalist author of THE CADET OF TILDOR (Penguin, 2013). She is an avid horseback rider, a (bad) hockey player, and an ice-cream addict. Born in Russia, Alex learned English in elementary school, where a thoughtful librarian placed a copy of Tamora Pierce's ALANNA in Alex's hands. In addition to becoming the first English book Alex read for fun, ALANNA started Alex's
life
long
love for YA fantasy books. Alex is represented by Leigh Feldman of Leigh Feldman Literary. She lives in Washington, DC.
Join Alex's newsletter for news, bonus content and sneak peeks: 
www.subscribepage.com/TIDES
Giveaway!
3
winner
s
will receive a
n eBook set of Alex's TIDES SERIES & an eBook of TRACING SHADOWS
,
INTERNATIONAL
.
a Rafflecopter giveaway