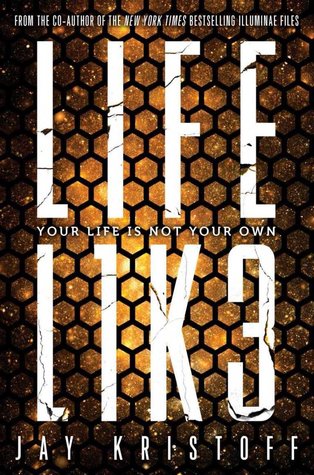 Release Date
: May 29, 2018
Author
: Jay Kristoff
Publisher
: Knopf Books for Young Readers
Length
: 416 pages
Source
: Review ARC from Publisher
On a floating junkyard beneath a radiation sky, a deadly secret lies buried in the scrap.

Eve isn't looking for secrets—she's too busy looking over her shoulder. The robot gladiator she's just spent six months building has been reduced to a smoking wreck, and the only thing keeping her Grandpa from the grave was the fistful of credits she just lost to the bookies. To top it off, she's discovered she can destroy electronics with the power of her mind, and the puritanical Brotherhood are building a coffin her size. If she's ever had a worse day, Eve can't remember it.

But when Eve discovers the ruins of an android boy named Ezekiel in the scrap pile she calls home, her entire world comes crashing down. With her best friend Lemon Fresh and her robotic conscience, Cricket, in tow, she and Ezekiel will trek across deserts of irradiated glass, infiltrate towering megacities and scour the graveyard of humanity's greatest folly to save the ones Eve loves, and learn the dark secrets of her past.

Even if those secrets were better off staying buried.
Review:
Protagonist
: Eve has spent the days since her family's death doing everything she can to keep her grandfather from succumbing to cancer that is slowly killing him. She does this by fighting in the ring of the WarDome, using her machina to take down other robots and earn money for her grandfather's medicine, but when she loses, in turn discovering a power within her, a power people will kill her over, she didn't think she could have a worse day, but coming across a lifelike in the barren wasteland of the Scrap, and coming home to many forces willing to kill her, her friends Lemon and Cricket, and her grandfather, she's set off on a journey of self-discovery, to find out who she truly is. Eve is such a complex character, who goes through a whole gambit of emotions in just this one book. As she voyages on, with Lemon, Cricket, and Ezekiel in tow, she has to face so much more than who she is. This journey forges her into someone, something stronger, and I was completely blown away by how she doesn't so much change, as she finds out who she is, in more than one sense.
Romance
: So, fairly early on there were a few red flags when it came to the romance in this book, things that, if another author had written this, I might have had cause to be worried about as some of the tropes in this romance felt almost like narrative shortcuts, something to fast-track the romance, luckily that wasn't the case at all. The romance between Eve and Zeke is fairly layered and very compelling. I will say now though, that there isn't really a focus put on the romance too much, which makes sense with everything else that's going on in this book, but that doesn't mean that the romance wasn't extremely compelling, and it does impact the story in some major ways. It was interesting to see how the author transformed a couple rather tired romance tropes, things that, as I said before, felt like shortcuts and made them very poignant elements to the romance, and in some ways hindered the romance more than helped it.
World Building
: If I had one bad thing to say about this book it's that the beginning is a bit hard to get into. This is one of those books that likes to throw you right into the story, into an almost completely new world, built on the near destruction of our own, filled with its own (luckily creative) slang and a history that the reader isn't privy to from the start. It took me a little while to get used to and to fully understand what's going on, but once I did I practically sunk into this world. There are a lot of post-apocalyptic elements to this world, in addition to the more sci-fi elements, and even when the author is describing a barren wasteland, everything still feels so real and so alive, because the author's words truly bring this world to life. Then there's how robots fit in this world, the three cardinal Laws of robots, and how there are some robots that don't follow those rules added so much depth to the story and a great philosophical angle overall. I loved learning about the different types of machines in this world, how some are mindless, only doing what they're programmed to do and nothing else, some are manually controlled by a human, and some have a mind of their own, minds that can be used to help or harm. Finally, there are a few retelling elements sprinkled into this story, one that may be very obvious is Pinocchio, as Cricket is described as Eve's conscience, but there's another one, a bigger one, and one that completely caught me by surprise.
Predictability
: While there are one or two twists in this book that felt like they got a bit too obvious before they're suddenly revealed, most of the twists in this book caught me completely off guard. Obviously this is the trickiest section to write as it's the closest to spoilers and there isn't a whole lot I can say other than whether the twists in this book hit home, but the final twist, the biggest twist, well I'll just say that while I had a few inklings before the final revelation, they didn't come too early in the book, and the twist still laid me out flat.
Ending
: Holy crap, the ending of this book is so freaking intense. I mean, the final climax alone knocked my socks off, but there was still a great deal after that. The final climax is full of tension as our heroes make their stand, there's a great deal of action and emotion all packed into a couple chapters, if that much, then we have a twist, that as I said before completely laid me out flat and that I'm still reeling from, all leading to a game-changing cliffhanger that left me wildly speculating about where the next book will even lead, though I do have a few ideas.
Rating:
Gah! I wanted to give this book 5 stars so bad, but the thing is, as much as this book completely blew me away and will undoubtedly leave me with a major book hangover, the beginning of this story is a bit tricky to get immersed into, but when you do, you're in for one hell of a ride!
About the Author:
Jay Kristoff is a #1 international, New York Times and USA Today bestselling author of science fiction and fantasy. He grew up in the second most isolated capital city on earth and fled at his earliest convenience, although he's been known to trek back for weddings of the particularly nice and funerals of the particularly wealthy. Being the holder of an Arts degree, he has no education to speak of.
His LOTUS WAR trilogy was critically acclaimed in Kirkus and Publishers Weekly, nominated for the David Gemmell Morningstar and Legend awards and won the 2014 Aurealis Award. Jay's new series, the SciFi thriller THE ILLUMINAE FILES, was co-authored with Amie Kaufman. Book 1, ILLUMINAE, became a New York Times and international bestseller, was named among the Kirkus, Amazon and YALSA Best Books of 2015, became a finalist for the Prime Minister's Literary Award and won the 2016 Aurealis Award and an ABIA Book of the Year award. ILLUMINAE is currently slated to be published in thirty five countries, and film rights have been acquired by Brad Pitt and Plan B Entertainment.
Jay's new fantasy series, THE NEVERNIGHT CHRONICLE, commenced in 2016. The novel was an international bestseller, won the Aurealis award and earned Kristoff his second Gemmell nomination. Part 2, GODSGRAVE, was published in 2017, and won the series its second Aurealis award. A new YA series, LIFEL1K3 has also been acquired by Knopf/Random House Kids, and commences publication in early 2018. A new series with Amie Kaufman, THE ANDROMEDA CYCLE, begins in 2019 with Knopf/Random House Kids. Jay is as surprised about all this as you are. He is represented by Josh Adams at Adams Literary.
Jay is 6'7 and has approximately 12,000 days to live. He abides in Melbourne with his secret agent kung-fu assassin wife, and the world's laziest Jack Russell.
He does not believe in happy endings.
Giveaway! (US Only)
a Rafflecopter giveaway