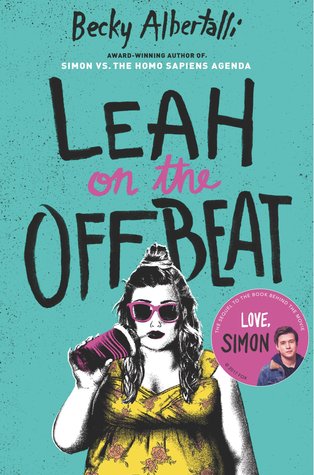 Release Date
: April 24, 2018
Author
: Becky Albertalli
Publisher
: Balzer + Bray
Length
: 352 pages
Source
: Purchased Book
Leah Burke—girl-band drummer, master of deadpan, and Simon Spier's best friend from the award-winning Simon vs. the Homo Sapiens Agenda—takes center stage in this novel of first love and senior-year angst.

When it comes to drumming, Leah Burke is usually on beat—but real life isn't always so rhythmic. An anomaly in her friend group, she's the only child of a young, single mom, and her life is decidedly less privileged. She loves to draw but is too self-conscious to show it. And even though her mom knows she's bisexual, she hasn't mustered the courage to tell her friends—not even her openly gay BFF, Simon.

So Leah really doesn't know what to do when her rock-solid friend group starts to fracture in unexpected ways. With prom and college on the horizon, tensions are running high. It's hard for Leah to strike the right note while the people she loves are fighting—especially when she realizes she might love one of them more than she ever intended.
Review:
Protagonist
: While we didn't really get a lot of Leah in
Simon vs. the Homo Sapien's Agenda
, well, now she has her own books and she freaking kills it! I love Leah so much as a character, I mean she was great for the odd sarcastic and snarky retort or comment in
Simon
, but I love getting to see a more vulnerable side to her in this book, it's that vulnerability that I very quickly related to, I mean nearly everything she goes through in this book felt extremely relatable, the vulnerabilities about her weight, bisexuality, and art were the things I related to the most, although instead of drawings substitute stories, but they're very similar feelings. In the end, Leah's really this giant ball of insecurities and vulnerabilities with a hard badass shell. I loved learning more about her character, seeing the trials and tribulations she goes through in her Senior Year of High School, and I seriously couldn't get enough of her.
Romance
: So, the biggest mystery for me going into this book was, who will be Leah's love interest, and I have to say I didn't really see it coming, at all. Obviously I'm not going to give it away, as just like with Simon the love interest is a mystery for much of the book, well actually that's not quite true, after a certain point it becomes obvious who Leah will gravitate more towards, but for a good while there, there were a lot of prospects, or at least they were prospects in my head, and I liked seeing this array of posibilities for Leah, I mean for a second there I thought that Leah and Taylor might eventually be a thing, they aren't but it was an interesting ship for a page or two. Though I'm glad it wasn't Taylor as I ship Leah and her Love Interest so freaking hard in this book, I mean I was seriously surprised at how much I adored them together and I really wish the book was longer just so that I could have more of them together.
World Building
: When I first saw this book being described as a "sequel" to
Simon vs. the Homo Sapien's Agenda,
I was kind of like "Eh, it's more of a companion, but whatever, I'm not complaining." however, this book, in so many ways, feels like a sequel to
Simon
, even if there's a new narrator. We're back at Creekwood High and nearly everyone from the first book is back and their lives are about to get so, so complicated as they navigate prom, college tours, college acceptances, (or lack thereof) and of what the world will bring them after they've left high school. Things are getting real and tensions rise as reality crashes down hard. While it was painful seeing some of these characters go through some real and shitty struggles, I had to remind myself that characters struggling is a good thing, as not only is it more realistic, but it's those struggles that make everything worth it, I mean a story with no struggle is frankly just boring. Oh, and if anyone's wondering, there are references made to the characters of
The Upside of Unrequited
, though unlike this book being a sequel for
Simon
, there isn't the same, or really any, level of "sequel" for that installment, or at least I don't think so, I haven't read it yet and honestly don't feel like anything was spoiled, in fact I want to read it even more now.
Predictability
: So, as I said, the main mystery of this book, at least for me, was who Leah's primary love interest would be, and like I said, I didn't see it coming. I mean, there's plenty of foreshadowing that hints at it, even early on, but I didn't take it seriously for quite a while. As for everything else in this book, well it's a little on the predictable side, but at the same time, it never felt like the author was trying to shock or surprise readers. There are some really funny twists, such as where the gang goes for dinner before prom, and how a certain prom-posal goes down. In conclusion, this isn't a twisty shocking book, it's a fun and sometimes devastatingly realistic journey and while there a few surprises here and there, there's nothing too shocking in this story.
Ending
: As I said before, I really didn't want this book to end, and there were quite a few reasons for that, one is that there wasn't really a final climax to this book, or well there is but it comes so late in the book that there were certain things I wished to see explored before the book finished. The final climax was really emotional and I loved every minute and every word of it, but I do still wish that we got the see how certain characters reacted to everything before tying the book up. The final chapter acts as an epilogue taking place in the near future and tying nearly everything up and it's just freaking adorable and I loved that as well as it really highlights just how far Leah has come since the beginning of this book.
Rating:
Is it any surprise that I gave this book 5 stars!? I mean, I love
Simon
so much and this book has a very similar feel, obviously, and in some ways, I feel that I love it even more than
Simon,
and if we don't get a "Love, Leah" move or whatever, I'm seriously going to be bummed.