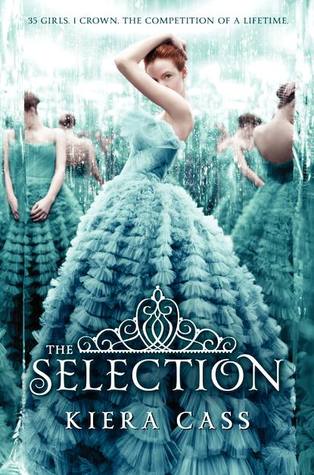 Release Date
: April 24, 2012
Author
: Keira Cass
Publisher
: HarperTeen
Length
: 327 pages
For thirty-five girls, the Selection is the chance of a lifetime. The opportunity to escape the life laid out for them since birth. To be swept up in a world of glittering gowns and priceless jewels. To live in a palace and compete for the heart of gorgeous Prince Maxon.

But for America Singer, being Selected is a nightmare. It means turning her back on her secret love with Aspen, who is a caste below her. Leaving her home to enter a fierce competition for a crown she doesn't want. Living in a palace that is constantly threatened by violent rebel attacks.

Then America meets Prince Maxon. Gradually, she starts to question all the plans she's made for herself—and realizes that the life she's always dreamed of may not compare to a future she never imagined.
Review
:
Characters: Let's start with our main character and protagonist, America. To start off she was nothing particularly special, and I'm sure that was the point. She is almost middle class and one of the few in her caste to be "Selected." to be honest, I loved her character, she was very honest and seemed to be the perfect heroine for this story. However, there were moments when she seemed less intelligent than she should have been. Most of the other girls that are "Selected" are pretty forgettable, with the exception of a rare few, but that's mainly because America has a lot of scenes with them.
Romance
: The love triangle in this book is crazy, or at least it seemed that way to me. So, in the beginning of the book America has a secret boyfriend, Aspen, and the reason that' he's secret is that he is in a lower caste than her own. Since when a girl gets married she has to change her caste to match that of her husband, America's mother wants her to marry someone in a higher caste. At first I was all for Aspen and America being together, however Aspen's attitude completely changes in all but a few pages, which makes me almost instantly regret rooting for them. Later, I began rooting for Maxson and America, not just because if they got together Aspen would be sad and lonely, though that was part of it, but because Maxon was actually a super awesome guy. This book is full of romantic ups and downs.
Comparison to The Hunger Games: When this book was being talked about before it came out there was talks of it being like The Hunger Games meets The Bachelor. However, once it came out there was some debate into if it was falsely represented as being like The Hunger Games. In my humble opinion I think that is, I mean if you read it there are many parallels to THG but, I guess the biggest disagreement was that there weren't enough parallels, to which I just have to say, "Why would you want more parallels?" because if there was anything that made it more like THG the controversy would be that it seemed to be a rip off of the popular franchise. So if you like THG check this book out, you might also like it.
Cover
: Just a quick last thing. The cover is definitely geared toward a female audience, so if you are a guy like me and want to read this book in public without fear of possible ridicule, I would suggest buying it on some type of E-Reader, such as a Kindle, Nook, or iPad, or if you want to physical book, buy some sort of book cover or use a cover from another book.
Predictability: This book wasn't too predictable, besides the fact that America gets put into "The Selection," there wasn't too many things that I was able to predict. I was incredibly happy with the fact that there were a few things left up in the air that weren't totally explained in this first book. This gives a good buffer until the next one, because if there was nothing to try and predict, the next year wouldn't be too fun.
Ending: Sadly, this ending felt a little flat, the cliffhanger wasn't substantial which I usually find refreshing because it won't leave me tortured for the next year or so, but this ending just kind of plateaued and didn't reveal any new information or shocking discovery in the last few pages. I'm not saying that the ending is horrible, it definitely gives an air of finality to the book, but it just didn't excite me like the endings of other books I've read.
Rating:
This book definitely has many of the qualities I look for in a good book, but it really fell short in some of he more important places. I can't wait to read the next one though.