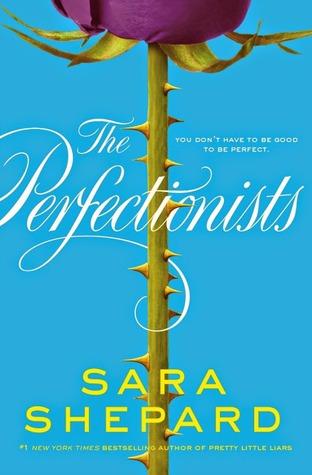 Release Date
: October 7, 2014
Author
: Sara Shepard
Publisher
: HarperCollins
Length
: 336 pages
From the author of the #1 New York Times bestselling series Pretty Little Liars comes a thrilling new novel about five perfect girls who are framed for a murder they didn't commit.

In Beacon Heights, Washington, five girls—Ava, Caitlin, Mackenzie, Julie, and Parker—know that you don't have to be good to be perfect. At first the girls think they have nothing in common, until they realize that they all hate Nolan Hotchkiss, who's done terrible things to each of them. They come up with the perfect way to kill him—a hypothetical murder, of course. It's just a joke...until Nolan turns up dead, in exactly the way they planned. Only, they didn't do it. And unless they find the real killer, their perfect lives will come crashing down around them.

From Sara Shepard, author of the #1 New York Times bestselling Pretty Little Liars series, comes another story of dark secrets, shocking twists, and what happens when five beautiful girls will do anything to hide the ugly truth.
Review:
Protagonists
: This book follows the story of five girls, Ava, Caitlin, Mackenzie, Julie, and Parker. Each girl unique, but they have one thing in common they all hate school golden-boy Nolan Hotchkiss for various reasons. While it does take a while we do find out what everyone hates about Nolan, some much worse than others. Each character felt very fleshed out, at least as fleshed out as they could be for a first installment, and they didn't seem to blur together. They were very well written, though maybe a bit naive at times, and there wasn't any perspective that I dreaded reading from, though I also didn't have a favorite that I looked forward to either.
Romance
: There are really only two words to describe the romance in this book, messy and at times creepy. Each girl has a romance of some sort, some having boyfriends already, and some gaining the attention of some rather unsavory "love interests" for lack of a better term. Most of the romances were forbidden for one reason or another, and there was only one that really had nothing moral holding it back and weird enough that wasn't my favorite. While most of the "forbidden" loves or at times lusts came of creepy or at the very least sketchy there was one that seemed genuine and I really liked, I'm really interested to see how most of these romances evolve from here on out.
World-Building
: With this being a contemporary most of the world-building comes from the characters and how the story builds over the course of the book. While it seemed to drag on near the beginning, seeming to spend too much time of establishing each character before really getting into the good part. However as the story unfolds we learn so much more about these characters that really bring this story to life. While the mystery is compelling, and the romance is alright, it's the characters and their personal stories, as well as their collective one, that make this novel and world come alive.
Predictability
: With this being the first installment, there were a lot of things that I had expected, I just never expected so many tropes to appear in this installment. Don't get me wrong there were many times that I was surprised, but there were more times that I knew exactly what was coming. It didn't really affect how I enjoyed the book, but it was surprising when I would joke to myself about the cliche thing that could happen, well would happen. Though I do have a lot of theories about what's going on and who's to blame for these mysterious circumstances, and I'm excited to see if they may be true.
Ending
: The ending really pumped up the suspense factor. The girls' many personal stories are left up in the air along with their collective one and it all leads to a very climactic cliffhanger. I was really shocked that the author decided to leave so many stories left where they were, I'm not say any should have been resolved, but there's so much to question at the end of this book, that it probably couldn't have hurt to give some other stories a bit more of a temporary landing.
Rating:
For the most part this book looks to be a great start to a very mysterious and compelling series. However, there were just a few things that bugged me, some of the "romance" for lack of a better term choices, and the naivete that these girls had at times was astonishing.