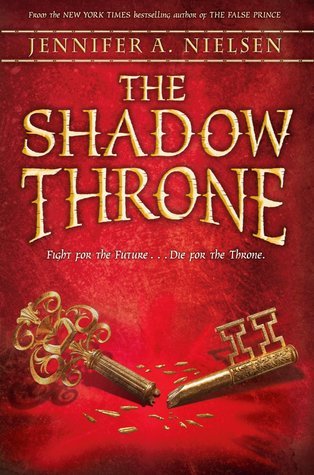 Release Date
: February 25, 2014
Author
: Jennifer A. Nielsen
Publisher
: Scholastic Press
Length
: 336 pages
One war.
Too many deadly battles.
Can a king save his kingdom, when his own survival seems unlikely?

War has come to Carthya. It knocks at every door and window in the land. And when Jaron learns that King Vargan of Avenia has kidnapped Imogen in a plot to bring Carthya to its knees, Jaron knows it is up to him to embark on a daring rescue mission. But everything that can go wrong does.

His friends are flung far and wide across Carthya and its neighbouring lands. In a last-ditch effort to stave off what looks to be a devastating loss for the kingdom, Jaron undertakes what may be his last journey to save everything and everyone he loves. But even with his lightning-quick wit, Jaron cannot forestall the terrible danger that descends on him and his country. Along the way, will he lose what matters most? And in the end, who will sit on Carthya's throne?

Rousing and affecting, Jaron's adventures have thrilled and moved readers in The False Prince and The Runaway King. Journey once again with the Ascendant King of Carthya, as New York Times bestselling author Jennifer A. Nielsen brings his story to a stunning conclusion with The Shadow Throne.
Review:
Protagonist
: Jaron has come a long way since his time as Sage, the petulant child who had no desire to rule over a country. Now Jaron will do whatever it takes to protect his country, even if that means he has to give up his own life. Unlike the other two installments in this trilogy Jaron never goes undercover as Sage which while initially a bit disappointing, ultimately showed me that Jaron is done with hiding and that to protect his kingdom and those he loves he needs to do it as himself. As I said, Jaron's come a long way and really grown into his role as king. It was hard to really picture him as young as he's supposed to be, and I kept picturing him in his late teens and early twenties, instead of the fifteen year old he actually is. His maturity mixed with trickster tendencies make him a fun and complex character to read about.
Romance
: Unlike the other books in this series, this one has a bit more focus on the romance. While it in no way takes center stage over the war plotlines or even the plotlines concerning the friendships of Jaron, Tobias, and Roden, it does have a larger role in the story as this series comes to a close. There are actually two romances in this book and while I can easily say that one of them is obviously between Jaron and Imogen, the other is actually a bit of a surprise, well not really, while Jaron is blind to it throughout a good portion of the story it's fairly easily deduced from the beginning who else may be falling in love. Though I will warn you that one or both of these love stories may not have a happy ending.
World-Building
: While the first two books in this series had Jaron spend a large portion of his time during the books in one location, this book has him travelling all over the continent as he helps his people not only prepare for war but fight it as well. This book has call backs to the previous books as Jaron not only calls in favors of the friends and followers he's met along his journey, but re-visits places like Farthenwood where he spent a lot of time. There was still a lot to learn about how this world works and it was great to see how everything ties together in the very end.
Predictability
: In my previous reviews of this series I remarked on how this authors will spin foreshadowing and use blind spots to get the most bang for her buck when it comes to twists and this book is no exception. While the first book blew my mind with the game changing reveal that Sage was actually the real long lost Prince Jaron, and the second installment exceeded my expectations with just how many surprises the author had in store, with this final chapter in the trilogy what I noticed most was how Jarod could get backed into a corner leaving me wondering, not "How are they going to get out of this one?" but "How does this book still have X pages left!?" It was great to see Jaron put his secret plans into action paralleling a bit how he kept his identity secret from the reader in the first book.
Ending
: The ending to this book, and thus this series, was spectacular. The final confrontation was incredible as the game was constantly being changed from moment to moment, leading up to a spectacularly brilliant climax. As for the very end, well you all know how much I love a good epilogue and this one has to be one of the best. I wasn't left with any questions as to what happens to these characters after I shut the book, and even if I never get to see these characters again, I feel solid enough about their post series destinies.
Rating:
While this is not my favorite of the trilogy, that still being the first installment probably, and it being very different from the other two books in the series, I still loved this conclusion so much. I've read and seen some pretty good, and pretty bad conclusions this past year, but this may just be the best I've read so far. It gives concise yet informative knowledge of all the important characters lives (that are left) after the final climax, leaving me not only a feeling of deep satisfaction, but of true closure.