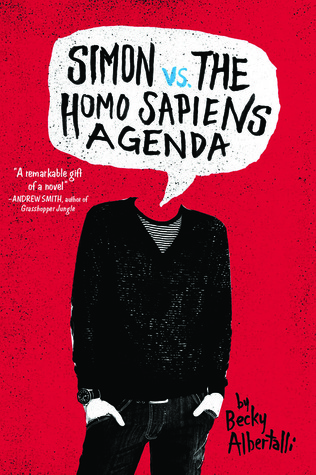 Release Date
: April 7, 2015
Author
: Becky Albertalli
Publisher
: Balzer + Bray
Length
: 320 pages
Sixteen-year-old and not-so-openly gay Simon Spier prefers to save his drama for the school musical. But when an email falls into the wrong hands, his secret is at risk of being thrust into the spotlight. Now Simon is actually being blackmailed: if he doesn't play wingman for class clown Martin, his sexual identity will become everyone's business. Worse, the privacy of Blue, the pen name of the boy he's been emailing, will be compromised.

With some messy dynamics emerging in his once tight-knit group of friends, and his email correspondence with Blue growing more flirtatious every day, Simon's junior year has suddenly gotten all kinds of complicated. Now, change-averse Simon has to find a way to step out of his comfort zone before he's pushed out—without alienating his friends, compromising himself, or fumbling a shot at happiness with the most confusing, adorable guy he's never met.
Review:
Protagonist
: Simon is a smart, funny, Harry Potter-obsessed nerd, and he's being blackmailed. Simon is a fantastic character that really just puts this novel over the top. The little comments he adds, and the jokes he makes are really grounded and kind of brings me back to high school in a lot of ways. Granted, I didn't go through nearly as much drama and confusion as he does, but he does handle most things in this book like a pro. He's a bit nosy, in a good way, but he seems to miss a lot of the big things. His development in this book is something that crept up on me but by the end, while he's not a completely different person, he has changed and not just on a superficial level.
Romance
: The romance in this book was adorable, and it might be because it was mostly done over emails nearly every other chapter. So, in the beginning, Simon and Blue don't know who the other is and it's agreed upon not to share that information. Anyway, so they have been emailing for a few months before the beginning of the book and at first it's more about being able to confide their feelings about being gay with someone and having an outlet that they can vent to and be honest with and know that the other person, at least on some level, knows what they're going through. Eventually, though things get more forward and flirtatious and a real romance starts to form despite the anonymity. It's a light and fun romance with nearly no drama and I always found myself wanting to get to the email chapters.
World-Building
: So with this being on contemporary, and me not really knowing how to discuss the world-building of a book rooted in reality, I'm just going to use this as an outlet for a few things I noticed. First off was the vague blackmail, it kind of cheapened things a bit to make it seem so innocent. Granted, it wasn't innocent in Simon's eyes, but Martin, the douchebag blackmailer, didn't even really
demand
anything, just hinted at wanting to spend more time with Abby, his crush and one of Simon's best friends, and as the "bad guy" and considering how much of a horrible and terrible person he is, it wouldn't have surprised me if he just asked for Simon to hook him up with Abby point blank. Also, I'm not great at articulating my feelings about writing styles and the like, but I do have to point out that there is something off about the writing in this book, it's not so bad to make it impossible or even difficult to read, but it is noticeable.
Predictability
: For the most part this book was pretty unpredictable, there were moments that hinted at certain things, and while I had my suspicions I wasn't certain of how my suspicions could be right. I will say though that Blue's identity is easy to guess, but not so easy that Simon not putting it together would make him seem stupid.
Ending
: I was so happy that this ending wasn't as idealistic as I was expecting it to be. Seriously towards the end, I thought it was going to be an "everybody gets a happy ending, yay for no consequences to life" type of ending that would just cheapen the realness of this book. Instead though there were things that didn't completely work out and some things were strategically left in the air, but otherwise cleared up.
Rating:
Holy Crap this book is amazing. I loved eery minute of this book and could barely put it down. I can't wait to read more from this author and see what stories she'll tackle next.