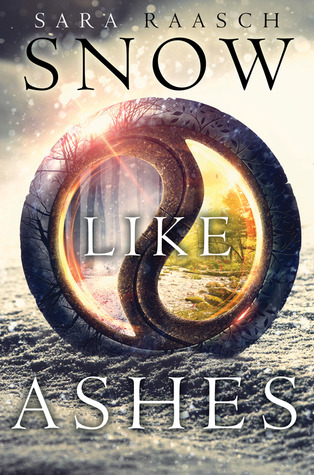 Release Date
: October 14, 2014
Author
: Sara Raasch
Publisher
: Balzer + Bray
Length
: 416 pages
A heartbroken girl. A fierce warrior. A hero in the making.

Sixteen years ago the Kingdom of Winter was conquered and its citizens enslaved, leaving them without magic or a monarch. Now, the Winterians' only hope for freedom is the eight survivors who managed to escape, and who have been waiting for the opportunity to steal back Winter's magic and rebuild the kingdom ever since.

Orphaned as an infant during Winter's defeat, Meira has lived her whole life as a refugee, raised by the Winterians' general, Sir. Training to be a warrior—and desperately in love with her best friend, and future king, Mather — she would do anything to help her kingdom rise to power again.

So when scouts discover the location of the ancient locket that can restore Winter's magic, Meira decides to go after it herself. Finally, she's scaling towers, fighting enemy soldiers, and serving her kingdom just as she's always dreamed she would. But the mission doesn't go as planned, and Meira soon finds herself thrust into a world of evil magic and dangerous politics – and ultimately comes to realize that her destiny is not, never has been, her own.
Review:
Protagonist
: Meira, one of the last surviving free people of Winter just wants to be a soldier and help free the rest of her people from the tyranny of the ruler of Spring, Angra. However, the leader of their rag tag group of refugees, Sir, won't let her risk her life for her country. I liked Meira for the most part, she's a fairly petulant character for most of the book, will a real stubbornness and quick to act nature about her. Her development over the course of the book is fairly easy to grasp, even though it does take a while for her to realize the things she does wrong in this book.
Romance
: At the beginning of this book i had a sneaking suspicion that there would be a love triangle, it was just how everything was set up made it feel like there was another love interest than just Mather that Meira would have to tangle with. Though when I read the synopsis of the book on Goodreads I thought that maybe there wouldn't be. Of course however, I was right and there is a love triangle. However, this love triangle is probably one of the best that I've ever read, if not the best. I really have no clue which love interest will win out in the end, and I have, for probably once in my life, no real preference for who Meira will choose. I'll be interested to see how this will grow in upcoming books.
World-Building
: From the start of this story it's easy to see that this is a fairly generic fantasy tale. A kingdom lost to an evil foe and an heir, even if they aren't the main character, needing to free their people and take back their kingdom. However, what makes this story really unique and special are the kingdoms and dispersal of magic in this world. There are a total of eight kingdoms, four seasons and four rhythms. Each ruler holds a conduit for magic which is not only tied to their bloodline, but to their gender as well with there being an even gender dispersal among the rulers. I would get into it more but that's just a small taste of the crazy amazing world-building found inside this amazing book.
Predictability
: On the whole this book was fairly unpredictable. I knew for the most part where the story was going, however it was more the why and how that escaped me, making for a very entertaining, if not sometimes stressful, adventure. There was one twist that I didn't quite grasp until just before it was revealed and this was probably the biggest twist of the entire story. It was something that I had been wondering about, trying to find a way to make it work in the story without screwing everything up, and in the end, the answer was actually very simple.
Ending
: So while this book in no way felt like a stand-alone, the end of this book wraps a lot of things up. In fact it wraps up much more than I thought it would, but I'm interested to see where it will go from here. The ending is a bit plateaued, one of those that ends with a feeling of hope, dread, or in this case somehow both. It's a rather satisfying ending that most likely won't leave readers dying for the next book too soon after they finish it.
Rating:
I wasn't too sure I was going to give this book 5 stars, but in the end it really deserved it. The love triangle is written so well, and the story and world are so richly fascinating that I was almost immediately sucked in.