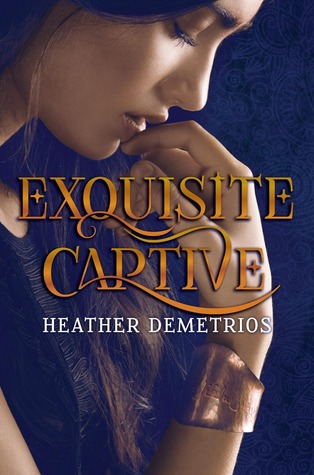 Release Date
: October 7, 2014
Author
: Heather Demetrios
Publisher
: Balzer + Bray
Length
: 480 pages
Forced to obey her master.
Compelled to help her enemy.
Determined to free herself.

Nalia is a jinni of tremendous ancient power, the only survivor of a coup that killed nearly everyone she loved. Stuffed into a bottle and sold by a slave trader, she's now in hiding on the dark caravan, the lucrative jinni slave trade between Arjinna and Earth, where jinn are forced to grant wishes and obey their human masters' every command. She'd give almost anything to be free of the golden shackles that bind her to Malek, her handsome, cruel master, and his lavish Hollywood lifestyle.

Enter Raif, the enigmatic leader of Arjinna's revolution and Nalia's sworn enemy. He promises to free Nalia from her master so that she can return to her ravaged homeland and free her imprisoned brother—all for an unbearably high price. Nalia's not sure she can trust him, but Raif's her only hope of escape. With her enemies on the hunt, Earth has become more perilous than ever for Nalia. There's just one catch: for Raif's unbinding magic to work, Nalia must gain possession of her bottle…and convince the dangerously persuasive Malek that she truly loves him. Battling a dark past and harboring a terrible secret, Nalia soon realizes her freedom may come at a price too terrible to pay: but how far is she willing to go for it?

Inspired by Arabian Nights, EXQUISITE CAPTIVE brings to life a deliciously seductive world where a wish can be a curse and shadows are sometimes safer than the light.
Review:
Protagonist
: Nalia has been bought and sold on the Dark Caravan, the slave trade for jinni. Forced to obey a master and stripped of some of her most basic freedoms, Nalia would do almost anything to be free, even team up with her sworn enemy. I really liked the character of Nalia, while a bit flawed and self-deprecating, underneath all that though she's strong willed and fierce. Her character development over the course of the book was very well executed, with no real burst or lull in the development which was fantastic, as it made her seem a lot more realistic.
Romance
: So this book has a love triangle, which I know some people may not enjoy, but I'd say give it a try because it's not quite what it appears to be. At first I thought it was going to be a typical antagonist love interest with a more heroic love interest that I could take more seriously. However, as the story unfolded it became more apparent that maybe I could take Malek, Nalia's antagonistic master, more seriously as well. While I still believe that he doesn't stand a chance to end up with Nalia, I do have a few doubts here and there. I really enjoyed Raif as a love interest, though his and Nalia's feelings start off slow burning it does, at one point, seem to skip ahead which is a bit jarring.
World-Building
: There is a lot of world-building in this book. Well, maybe there isn't all that much world-building, but to someone who isn't that well versed in jinni lore, I felt like there was a lot of new information dumped on me at various points during the story. Even though it seemed that I was, at times, bombarded with jinn information it wasn't so much that I was ever really confused during the story, which is the most important thing. I was really surprised with the amount of world-building though, since usually a great deal more world-building is introduced in the second installment of a trilogy, which begs the question, just how much world-building should we expect from the next installment?
Predictability
: For the most part it wasn't all that easy to see quite how the story was going to unfold. Sure, there were a few times when I knew, more or less, what was going to happen. There were times, especially as the book was coming to a close where I was utterly floored by some of the twists that this author incorporated into her story. I liked how to author didn't really lather the foreshadowing on too heavily and really sort of let the story tell itself rather than dropping a ton of clues or following some sort of YA novel formula that would have made the book way too easy to predict.
Ending
: So as the book seemed to draw to a close, which a great and action packed final confrontation, I was kind of expecting the book to quickly wrap up and possibly plateau like most first books in series do, however I saw that there was still quite a ways to go. In fact where most books would have a quick calm after the storm scene followed by a twist or plateaued ending, this book was just getting good. While it did feel like it was going on a bit too long, the twists at the end really helped save it for me in the long run.
Rating:
Okay, so while this may not be the best book ever, with copious amounts of foreshadowing, and a weirdly paced ending, I really enjoyed it a lot and can't wait to see what will happen in the sequel.