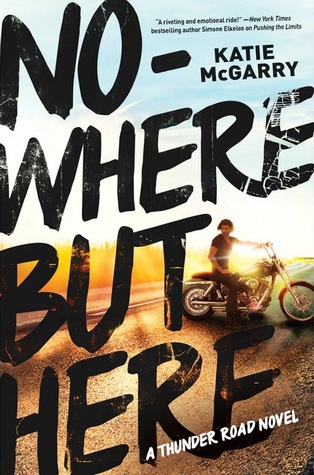 Release Date
: May 26, 2015
Author
: Katie McGarry
Publisher
: Harlequin Teen
Length
: 496 pages
An unforgettable new series from acclaimed author Katie McGarry about taking risks, opening your heart and ending up in a place you never imagined possible.

Seventeen-year-old Emily likes her life the way it is: doting parents, good friends, good school in a safe neighborhood. Sure, she's curious about her biological father—the one who chose life in a motorcycle club, the Reign of Terror, over being a parent—but that doesn't mean she wants to be a part of his world. But when a reluctant visit turns to an extended summer vacation among relatives she never knew she had, one thing becomes clear: nothing is what it seems. Not the club, not her secret-keeping father and not Oz, a guy with suck-me-in blue eyes who can help her understand them both.

Oz wants one thing: to join the Reign of Terror. They're the good guys. They protect people. They're…family. And while Emily—the gorgeous and sheltered daughter of the club's most respected member—is in town, he's gonna prove it to her. So when her father asks him to keep her safe from a rival club with a score to settle, Oz knows it's his shot at his dream. What he doesn't count on is that Emily just might turn that dream upside down.

No one wants them to be together. But sometimes the right person is the one you least expect, and the road you fear the most is the one that leads you home.
Review:
Protagonists
: Emily likes her seemingly perfect life, she's got great parents, good friends, and everything seems to go her way. But after a message from her biological father sends her and her parents to her mother's childhood home Emily finds out that the things she believes about her life and those in it, may not be quite as true as hat she was told. All Oz wants is to follow his father and go into the family business, which also means a place in the Reign of Terror biker club, but after messing up his first real chance to prove himself worthy to be a prospective member for the club, he's given a second chance, one that involves protecting Emily from rival bikers with an ax to grind. I really loved the individual growth of these characters, and while their growth in many ways involved their shared experience and the encouragement of the other, it was still wholly their own. It's amazing how much McGarry can pack into just one book, but the characters you meet in the beginning of the book are a far cry from who they are by the end.
Romance
: Another thing that McGarry is amazing at writing is romance, and by that I mean she is one of the only authors I've read that can convincingly have two characters who've never really interacted before the start of a book fall in love by the end of it without resorting to insta-love tropes. The romance between Oz and Emily is a fairly slow burning one, and while there is surely a hell of a lot of attraction there, the emotional development of their romance takes a bit of time to really get off the ground. Also, there are obstacles in their way that they have to navigate before they can truly enter into a calm and semi-normal relationship.
World-Building
: The main focus of the world-building for this book, and this series, is the biker club Reign of Terror and the secrets they hide from Emily. There are reasons Emily grew up believing what she did about her biological dad and the truth behind that is slowly revealed over the course of the book, and while I may have been a bit annoyed at how vague all the hints were, by the time everything is revealed and we really learn the truth about everything it is completely worth it. I'm excited to continue in this world and learn more about the teenage members of the Terror.
Predictability
: I have to say for the most part this book was pretty unpredictable. McGarry is a wiz at weaving foreshadowing in a less than obvious way, making the surprises and twists she incorporates more exciting and shocking than something seen from miles away. There were small things that are easy to see, such as where the main characters would most likely end up by the end of the book, mainly because those things were constantly brought up, but the fantastic thing about this book is that it was never about the destination for these characters, or myself for that matter, it's all about the ride.
Ending
: The ending of this story is a bit bittersweet, as it ends in a way that really ties up the arcs for these two characters, and the truth is finally completely revealed, but at the same time it was time to say goodbye to these characters, at least as main characters, which made me sad as I loved their journey. There wasn't really much that I could call a "final confrontation" but there was something that while intense and very high adrenaline, wasn't as crazy as I had envisioned in my mind about how this book would achieve it's final climax.
Rating:
So yeah, this really wasn't that much of a shock to me, I knew going in that I was going to love this book, however I underestimated just how much I would love it. This is definitely a book any Katie McGarry fan would love. It's addicting and is easily my favorite read of the year so far!