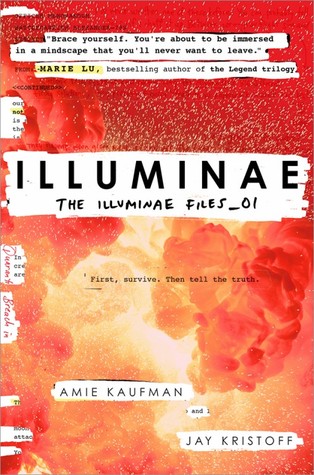 Release Date
: October 20, 2015
Authors
: Amie Kaufman and Jay Kristoff
Publisher
: Knopf Books for Young Readers
Length
: 608 pages
This morning, Kady thought breaking up with Ezra was the hardest thing she'd have to do.

This afternoon, her planet was invaded.

The year is 2575, and two rival megacorporations are at war over a planet that's little more than an ice-covered speck at the edge of the universe. Too bad nobody thought to warn the people living on it. With enemy fire raining down on them, Kady and Ezra—who are barely even talking to each other—are forced to fight their way onto an evacuating fleet, with an enemy warship in hot pursuit.

But their problems are just getting started. A deadly plague has broken out and is mutating, with terrifying results; the fleet's AI, which should be protecting them, may actually be their enemy; and nobody in charge will say what's really going on. As Kady hacks into a tangled web of data to find the truth, it's clear only one person can help her bring it all to light: the ex-boyfriend she swore she'd never speak to again.

Told through a fascinating dossier of hacked documents—including emails, schematics, military files, IMs, medical reports, interviews, and more—Illuminae is the first book in a heart-stopping, high-octane trilogy about lives interrupted, the price of truth, and the courage of everyday heroes.
Review:
Protagonists
:So Ezra and Kady just broke up, and during a class that they share their planet is invaded. In the chaos they end up getting separated and wind up on two different evacuating ships. Because of how this book is told you never fully get a feel for the character development. It's not that they don't develop over time, they most definitely do it's just that it's really hard to pick up on. At first both character are very angry and hurt and they sort of lean on not only each other, but their newly appointed jobs as well to kind of figure out who they are and who they want to be.
Romance
: I was utterly shocked at this romance. First off this is basically an established romance when the book begins. Sure they're broken up but honestly that doesn't last very long. Even though we don't really see these two come back together, or see that origin story that started off their romance, I found myself really rooting for the couple. This rarely happens when there's already an established romance, but I think how this book is written really lends itself well to this type of romance. It was fun and there was a definite chemistry between the two characters even though they really only talk over instant messaging.
World-Building
: This book you guys, this book. It's essentially a fictitious compilation of files amassed in a dossier that tell this story. You have surveillance cam logs, IMs, schematics, military files, e-mails, journal entries, etc. that all work together to form such an amazing story. It's unlike anything I've ever read before. While I'm not a huge sci-fi fanatic and the techno mumbo-jumbo can be a bit confusing, I always felt that it was meant to be that way and that there wasn't anything I was missing out on. I have to say, I know there's an audio book version, but I implore you that if you are going to read this book, READ it, I'm sure the audio book is a totally different experience and you'll get all the information you'll need for the story to make sense, but this book is something else entirely and I can't stress how much you need to read it.
Predictability
: So confession time, I actually spoiled myself on something substantial at the end, it's not something too huge, and to be honest I probably would have figured it out anyway, but it definitely affected how the twists toward the end of the book affected me. That being said though, there were so many twists in this book and I loved each and every one of them. Because this book is essentially the meat of the story without a lot of extra exposition, it was kept very high-octane and there was never a lull in the story. While I could guess a few things due to context clues and foreshadowing, for the most part I was caught off guard many times while reading this book.
Ending
: You never really find out quite why this book is entitled
Illuminae
until the very end of this book, and while I'm still not sure why that name was chosen in the book, the title makes sense once you read it. Honestly I can't quite pinpoint a final climax because as I said before this whole book was extremely climactic, Everything toward the end of the book was absolutely epic, and with ho this book is written it's not jsut something you read it's something you feel. As the book winds down there's a certain document/Instant Message log that takes this book to a whole new level, and leaves the book with this epic seismic cliffhanger that left me in NEED of the next book.
Rating:
For how this book is written alone it should get five stars, it takes some real talent to pull something like that off so effectively, but then you have the story which is so beyond phenomenal. In all honesty I think that this may very well be my favorite book of the year so far! I literally cannot wait until the next one!