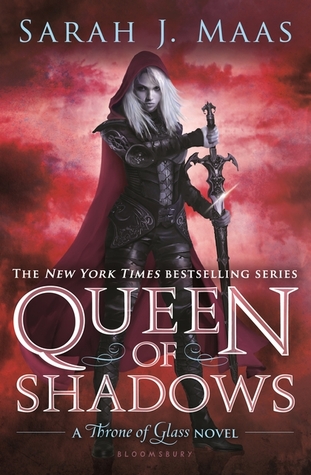 Release Date
: September 1, 2015
Author
: Sarah J. Maas
Publisher
: Bloomsbury USA Childrens
Length
: 656 pages
Everyone Celaena Sardothien loves has been taken from her. But she's at last returned to the empire—for vengeance, to rescue her once-glorious kingdom, and to confront the shadows of her past . . .

She will fight for her cousin, a warrior prepared to die just to see her again. She will fight for her friend, a young man trapped in an unspeakable prison. And she will fight for her people, enslaved to a brutal king and awaiting their lost queen's triumphant return.

Celaena's epic journey has captured the hearts and imaginations of millions across the globe. This fourth volume will hold readers rapt as Celaena's story builds to a passionate, agonizing crescendo that might just shatter her world.
Review:
Characters
: Celaena's journey continues as she has finally accepted her place as Aelin, Queen of Terrasen. This book deals a lot with Aelin keeping the promises she made in her life and taking vengeance where she is due. Aelin is such a complex and striking character, who just when you think that maybe she can't really develop anymore, she does. Manon Blackbeak is now Wing Leader and has to struggle with the demands of the duke and what is best for her people. I know that there are people out there that don't like Manon, and while I don't really understand that, I accept that. However I love Manon, she's cold, cruel, and vicious, but somewhere deep down there are glimpses of a good and moral person and over the course of this book those glimpses come around far more often. As for Dorian, Chaol, and Rowan, I love them all, their flawed and some are broken but their inner-strength really comes out over the course of this book.
Romance
: If I had one complaint about this book it would be the romance aspect of it. As if the romance wasn't complicated enough with Dorian a slave to a Valg Prince and Chaol extremely conflicted about whether or not he trusts Aelin after hiding her true self from him and the frightening stunt she pulled in Wendlyn, but now Rowan throws his hat into the ring. I have nothing against any of these characters, in fact independently I love them all, but the plot and world-building of this series is so amazing that needlessly complicated romances kind of distract from the story.
World-Building
: This series just keeps getting more and more in depth. I definitely regret not having read
The Assassin's Blade
prior to this book because many things that I'm sure were introduced in that book come back and play a large role in the first half of this book or so. The sinister plot of the King of Adarlan thickens as we discover his true motivations and about a coming threat far more dangerous than a magic wielding mortal king. As this series continues it's as though layers are added that make the world so real and complicated, but not in confusing or needless way. I can't wait to see how the world will continue to grow in these final two books.
Predictability
: There are a great many things I didn't see coming. In fact I never quite knew what was going to happen. There are a few things that seemed obvious, but other than that I had no real idea what was going to happen with these characters, other than Aelin and Manon I think I had feelings at some point that every other character might die. There are moments in this book that are utterly game-changing. It seems that this series keeps reinventing itself in small ways, but in this book that really rings true.
Ending
: So the final climax of this book is so incredibly epic. I mean I don't think I can properly put into words what I was felling as I read it. Everything happened so fast and there were moments of fear, moments of excitement and everything was just so amazing. The cool down after the climax sort of shows where the next book is headed and the various journeys that we'll be on with these characters. While there wasn't really a cliffhanger, and it actually ended up being more plateaued I can't wait to continue this series.
Rating:
If I was rating this just on the plot and world bulding and such and wasn't taking into account the romance this book would not only have gotten five stars but probably would have been my favorite so far. However I felt the romance was needlessly complicated and while things are sort of sorted out by the end it just felt off to me.