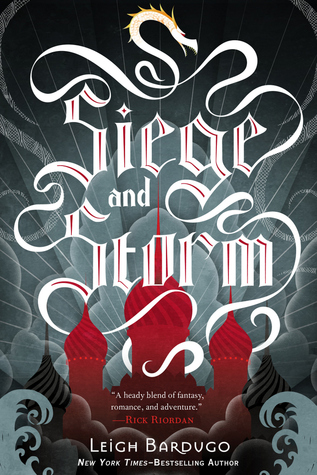 Release Date
: June 4, 2013
Author
: Leigh Bardugo
Publisher
: Henry Holt and Co.
Length
: 435 pages
Source
: Purchased Book
Darkness never dies.

Hunted across the True Sea, haunted by the lives she took on the Fold, Alina must try to make a life with Mal in an unfamiliar land. She finds starting new is not easy while keeping her identity as the Sun Summoner a secret. She can't outrun her past or her destiny for long.

The Darkling has emerged from the Shadow Fold with a terrifying new power and a dangerous plan that will test the very boundaries of the natural world. With the help of a notorious privateer, Alina returns to the country she abandoned, determined to fight the forces gathering against Ravka. But as her power grows, Alina slips deeper into the Darkling's game of forbidden magic, and farther away from Mal. Somehow, she will have to choose between her country, her power, and the love she always thought would guide her--or risk losing everything to the oncoming storm.
Review:
Protagonist
: Alina Starkov has fled Ravka with Mal and plans to make a new life far away from Grisha and dark forces, however the darkness isn't too far behind. Alina is once again sucked into the action as the great and powerful Sun Summoner, however this time she's not as naive and won't be someone's pawn in their grab for power. Alina really comes into her own in this book, but not all of her changes are good, she's still a strong character and the "wrong" changes I mentioned are definitely all a part of the author's plan, but even though her development in this books i great I'm far more interested to see where Alina will go in the next and final book.
Romance
: Wow, this romance just got complicated and a tad annoying. Now in addition to Mal and the malicious Darkling there's someone new vying for the affections of the Sun Summoner, though in all honesty the Darkling is kind of out of the running as he showed is evil hand. I know I said I grew to really like Mal as the previous book went on, but I have to say that it didn't last very long after I started this book. There's nothing really wrong with Mal, even if he is a bit possessive, but he and Alina seem to just want different things and neither of them really seem to get that until much later in the book. The new contender, Nikolai, is actually a very intriguing and multi-layered character, at first I really didn't like him but he grows to be a very well rounded and interesting character, if not for the romance then for the story and world as a whole.
World-Building
: Oh how I missed this world, and I didn't even realize it until I began this book. There's still so much about this world and these characters that I didn't know until this book and plenty more I'm sure to come. So this book begins a bit weird. The whole beginning of this book feels like it's going in hyper-drive like I was reading the ending of a book instead of the beginning. However after that's over it begins to die down and resemble something similar to normal. The plot of this series thickens as characters begin to develop and secrets and histories of this world add to it's richness and grow more and more relevant to this story.
Predictability
: So there wasn't really all that much that I was able to predict when it came to large and heavily plot related twists. However I was only truly shocked by these revelations a couple of times while the rest of the time I wasn't expecting it but at the same time wasn't really shocked by the events unfolding. There were a few things I was able to see coming but they were mainly small tropes and plot points that would normally be easy to predict normally.
Ending
: Wow, I really didn't expect this book to end the way it did. There is a lot left hanging up in the air as this book comes to a close and while I predicted how this book was going to end, it was only in the most vague and generalized way, the intricacies of the ending were far more shocking and I'm not quite sure where the story will go next but even without a clear cliffhanger I can't wait to dive into the next book.
Rating:
So even though the romance can be a bit aggravating at times and the characters can make some stupid decisions it's easy to see that it's all a part of their growth and the plot is so magnificent that it easily outshines the rest.