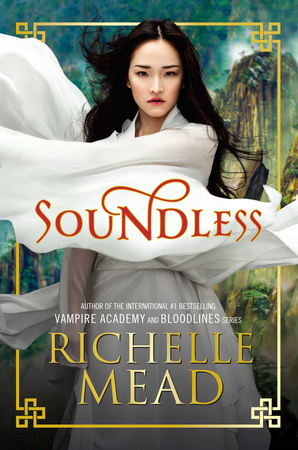 Release Date
: November 10, 2015
Author
: Richelle Mead
Publisher
: Razorbill
Length
: 272 pages
Source
: ARC from BEA
From Richelle Mead, the #1 internationally bestselling author of Vampire Academy and Bloodlines, comes a breathtaking new fantasy steeped in Chinese folklore.

For as long as Fei can remember, there has been no sound in her village, where rocky terrain and frequent avalanches prevent residents from self-sustaining. Fei and her people are at the mercy of a zipline that carries food up the treacherous cliffs from Beiguo, a mysterious faraway kingdom.

When villagers begin to lose their sight, deliveries from the zipline shrink and many go hungry. Fei's home, the people she loves, and her entire existence is plunged into crisis, under threat of darkness and starvation.

But soon Fei is awoken in the night by a searing noise, and sound becomes her weapon.

Richelle Mead takes readers on a triumphant journey from the peak of Fei's jagged mountain village to the valley of Beiugo, where a startling truth and an unlikely romance will change her life forever...
Review:
Protagonist
: Fei is one of the, if not the, most talented artist's apprentices in her village, because of this she helps record the news of what goes on in the town, such as food deliveries and other notable events. Her position is one of a high rank and prestige, but things are not so great in her village. People are going blind, and dying from malnutrition. To help them Fei travels beyond their mountain village for help, but what she finds might just be more dangerous. I really loved Fei, while she's a bit book smart and intelligent, she has this fire to her and over time isn't afraid to do what needs to be done to protect the wronged. This was an amazing quality and while at first she's a bit too by the book, her rebellious side comes out to play at just the right moments.
Romance
: So since this is a standalone and a rather short one at that I was a bit concerned that Mead would have to resort to insta-love tropes to get Fei and her love interest to where they needed to be by the end of the book. However, I was wrong. Mead used a bit of a mix between an established romance, which usually I hate but was done really well here, and a more traditional romance. Fei and Li Wei have a history, a tragic and romantic one that left them at the beginning of this book forced apart. However feelings still linger and while they go on this journey together, even though they shouldn't be together the temptation might just be too much. I know it kind of sounds super cliche and corny, but trust me it's done spectacularly.
World-Building
: With this book initially taking place in a world without sound it was very fascinating to see how things were described and how the world is built, at least in the beginning, without descriptions of sound. Then even after Fei gains her hearing things are still told in a very different way. There's no speech in this book because Fei, our first person narrator, cannot decipher the strange sounds we would recognize as words. Honestly the world building of this book is amazing and its correlation with the story and plot is very well executed, however I do have to say I'm a bit disappointed. The description of this book makes it seem as though Fei goes on this fantastic magical adventure, when for nearly the entire book I would have said that this book was realistic fantasy with strong dystopian undertones. Sure eventually there's magic, and technically there was magic earlier, but as I was reading I felt as though I was promised one awesome thing and was given another. The story is still fantastic, just not the kind of fantastic I was hoping for.
Predictability
: Like most, if not all, Richelle Mead books this story is heavily foreshadowed, though not in a way that would make the reader angry or annoyed at pretty much learning information, or being able to guess it, beforehand. There is one part though, something that made me really angry, because it was just something that was so obvious yet it had Fei puzzled for most of the book, granted I think she only brought it up a small handful of times so it wasn't like I was being hit over the head with her, ironic, lack of observation, but still I was kind of upset that it took her so long to figure it out.
Ending
: So even if this book ended without the epilogue I would have been satisfied with the ending provided, though I doubt many of you may agree. However since we are treated to an epilogue we do get a bit of a glimpse into these characters' future and see how the events at the end of the book have affected their lives. Since this is a standalone things do wrap up pretty neatly, though I did feel as though there was just enough left open for Mead to revisit the world later if she feels like it. The final confrontation itself is pretty epic. I won't say too much because of spoilers but let's just say that that last line of the synopsis about sound becoming Fei's weapon plays a big part in the finale.
Rating:
So I feel like I need to clarify why I'm giving this book four stars when I've pretty much done nothing but gush about how amazing it is, and you know, under a different set of circumstances this book would have been five stars. The fact of the matter is, I felt like I was going in expecting to read one book and came out reading another. I know it's not the author's fault and it's probably more than anything the publisher's fault, but I thought I was going to read a fantastic Chinese fantasy book full of magic and mythological creatures, and it does get to that point eventually, but by that time I had already resigned myself to thinking that this was really just a realistic fantasy novel with dystopian undertones. If I knew then about the book what I know now this would be an easy five star book.