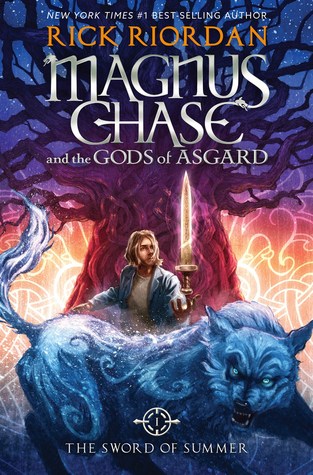 Release Date
: October 6, 2015
Author
: Rick Riordan
Publisher
: Disney-Hyperion
Length
: 528 pages
Source
: Purchased Book
Magnus Chase has always been a troubled kid. Since his mother's mysterious death, he's lived alone on the streets of Boston, surviving by his wits, keeping one step ahead of the police and the truant officers.

One day, he's tracked down by a man he's never met—a man his mother claimed was dangerous. The man tells him an impossible secret: Magnus is the son of a Norse god.

The Viking myths are true. The gods of Asgard are preparing for war. Trolls, giants and worse monsters are stirring for doomsday. To prevent Ragnarok, Magnus must search the Nine Worlds for a weapon that has been lost for thousands of years.

When an attack by fire giants forces him to choose between his own safety and the lives of hundreds of innocents, Magnus makes a fatal decision.

Sometimes, the only way to start a new life is to die . . .
Review:
Protagonist
: Magnus Chase has been living on the street ever since his mom dies under horrific and confusing circumstances two years ago. He's never run to his uncle who lives in the city, due to his mother's warnings about him, and has stayed one step ahead of the police who consider him a person of interest in his mother's death. I really liked Magnus, he's such a sarcastic character that he makes even the most boring things seem funny. Over the course of the book he starts to realize just who he is and his place in this world. His character development is really pronounced it's easy to see not only that he does grow but the reasons and experiences that influence who he's becoming.
World-Building
: This is the
only
thing about this book that disappointed me. It's not that I didn't enjoy it, because I really did, however it felt very much like Percy Jackson with a Norse coat of paint. When I read the Kane Chronicles it felt very much like a Rick Riordan series, with mythology and adventure, but it also felt wholly separate and different from the Percy Jackson series, whereas this just felt
too
much like it in a lot of ways. It's nothing obvious or huge, just small things that sort of add up over time to where, for me, it was undeniable. I just wish Riordan had just tried to do something more different with this trilogy.
Predictability
: So despite the amount of small similarities between this series and PJO, when it came to twists and surprises this book was original. While there was quite a bit that was easy to predict, basic tropes, cliches, and whatnot there were times when I was very surprised by what happens and what was revealed. There were some pretty big twists, and while I was surprised by what happened I was never truly shocked because everything seems so right, nothing seemed out of place or as though it came out of no where, things just seemed to happen the way they were always meant to.
Ending
: So the ending had quite a bit of twists and turns in it. The final climax was fantastic, characters really came into their own and used their vast array of talents to help Magnus achieve the things he needed to and possibly even more. The very end was an epilogue, written in third person that has some revelations of it's own and sets up the next book with a wicked cliffhanger.
Rating:
Wow, I never thought it would hurt this much to give a Rick Riordan book four stars, but I really felt that this book needed to become it's own thing and have a very unique formula, but instead it just felt as though Riordan used the PJO formula and tweaked it here and there, gave it a coat of Norse paint, and created this book. I still loved it to pieces but I just couldn't get over this.