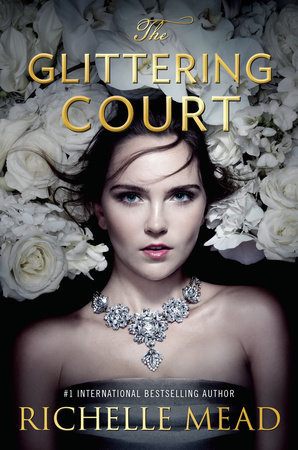 Release Date
: April 5, 2016
Author
: Richelle Mead
Publisher
: Razorbill
Length
: 416 pages
Source
: Gifted ARC
For a select group of girls, the Glittering Court offers a shot at a life they've only ever dreamed of, one of luxury, glamour, and leisure. To high-born Adelaide, whose wealthy family is forcing her into a loveless marriage, the Glittering Court represents something else: the chance to chart her own destiny, and adventure in an unspoiled, prosperous new land across the sea.

After a chance meeting with the dazzling Cedric Thorn, Adelaide poses as a servant to join the crop of impoverished girls he promises to transform into proper ladies. But her familiarity with upper class life comes with a price: she must hide her identity from her new friends, mysterious refugee Mira and fiery former laundress Tamsin, and most importantly, from Cedric himself—even though she's falling in love with him.

Everything begins to crumble when Cedric discovers Adelaide's ruse, and she catches the eye of a powerful young governor, who wants her for a wife. She didn't leave the gilded cage of her old life behind just to become someone else's property. But nothing is as daunting—or as wonderful—as the potent, forbidden attraction simmering between Adelaide and Cedric. One that, if acted on, would make them both outcasts in a wild, dangerous, uncharted world, and possibly lead them to their deaths.
Review:
Protagonist
: Adelaide seemingly has everything, power, money, a title, however most of that is just a ruse. The truth is that her family is going broke and in hopes of rectifying that her grandmother has set her up to marry a rather boring man. With her future feeling more like a noose around her neck, Adelaide makes a rash decision and takes her maid's place at the Glittering Court in hopes of having some say over her future. All in all I really like Adelaide, she's stubborn, strong, and at times a rather witty and sarcastic person. Her development over the course of the book was also handled well, as the story goes on, not only does she change both internally and externally, but some of her qualities are heightened and become a lot more dominant as she comes into her own.
Romance
: So if there's one thing Richelle Mead knows how to do it's write romance, and for the most part I liked the romance in this book. The chemistry between Adelaide and Cedric is rather apparent and the tension between them goes on for a good long while before anything really happens, but by the time it does I really began to root for them. The pacing of the romance felt a bit off, though I'll get to that later, but after kind of processing I felt like Mead did a fantastic job at creating a romance between these two well balanced characters.
World-Building
: So there are some synopses of this book that describe it as a fantasy, and while that's not entirely wrong let me clear up a few things. First off, this is more of a realistic fantasy, meaning that it takes place in an alternate world from ours, laid out differently and based on some historical period from our world, in this case Elizabethan England for Osfrid and Colonial America for Adoria, with some minor alterations here and there, but there's no actual magic or really anything that would classify this as a high or epic fantasy. As this world grew I fell more and more in love with it. At first I just imagined this world laid out much like out own except with different names and titles, however as things developed I began to notice things that I had initially classified as a substitute for one thing actually turned out to be for something entirely different which I liked. This world is richly described and there's a lot to it that it felt almost like this one book was actually three.
Pacing
: So normally I don't add this type of section into my reviews but I soon realized I needed to talk about it and didn't have a good enough place to sneak it in. While this book is a standalone, it feels like, in many ways, a trilogy that has been trimmed down and stuck into one book. At first I thought that it was a fluke and that I just found a great place for a first installment to end, but when I found a second one, coupled with how it's really easy to divide the plot of this book into three, more or less equal, portions it was impossible not to mention it. The pacing isn't bad it's just not quite what I expected, the story keeps evolving and things didn't really go the way I expected them to.
Predictability
: So yeah, I kind of was in standalone mode when reading this, so all of my theories about what would happen and the twists this story would take were more for a fairly straight laced and traditional standalone. Instead since this book feels more like a mashed up trilogy, things are constantly changing and thus the twists felt like more like ones that would come from a series. However, that doesn't mean that I didn't like where this book went. the twists and turns while normally very unexpected, were really enjoyable and there are still a lot of lingering questions, those secrets will no doubt come out in the two upcoming companion novels.
Ending
: So this ending had a lot of things. I mean there was quite a bit that went down in the final climax, which I'm not entirely sure where the boundary for that would go as there was a lot of tension for the last five chapters of the book or so, minus the very last one. I won't go completely into what happens, but it's definitely one of those things that I didn't expect, especially the closer we got to the end. The final chapter is very much a cool down period to wrap up all the loose ends of Adelaide's story, and torture us with what we don't know about the other two girls' stories. I'd say all in all I felt that the story wrapped up nicely and while I would sort of love to know more, like a bonus scene or two, I was very happy with how much this story wrapped up.
Rating:
Okay, so this was very hard to rate. On the one hand I really enjoyed this book, but because of it's odd pacing it was hard to just sort of melt into the story and get swept away. However I am looking forward to the two companion novels coming up, hopefully Tamsin's novel is first since that's currently the one I'm most intrigued by.