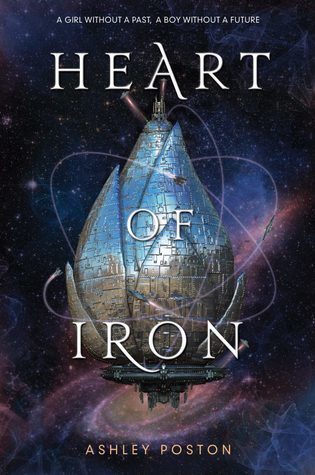 Release Date
: February 27, 2018
Author
: Ashley Poston
Publisher
: Balzer + Bray
Length
: 480 pages
Source
: OwlCrate Book/Audible Audiobook
Seventeen-year-old Ana is a scoundrel by nurture and an outlaw by nature. Found as a child drifting through space with a sentient android called D09, Ana was saved by a fearsome space captain and the grizzled crew she now calls family. But D09—one of the last remaining illegal Metals—has been glitching, and Ana will stop at nothing to find a way to fix him.

Ana's desperate effort to save D09 leads her on a quest to steal the coordinates to a lost ship that could offer all the answers. But at the last moment, a spoiled Ironblood boy beats Ana to her prize. He has his own reasons for taking the coordinates, and he doesn't care what he'll sacrifice to keep them.

When everything goes wrong, she and the Ironblood end up as fugitives on the run. Now their entire kingdom is after them—and the coordinates—and not everyone wants them captured alive.

What they find in a lost corner of the universe will change all their lives—and unearth dangerous secrets. But when a darkness from Ana's past returns, she must face an impossible choice: does she protect a kingdom that wants her dead or save the Metal boy she loves?
Review:
Protagonists
: This story is told from four, third-person, POVs. We have Ana, the orphan girl raised by a crew of outlaws, Robb, the screw-up son of a noble family with a mission, Di, the Metal boy who's Ana's best friend and medic, and Jax, the best pilot in the galaxy with a tragic past, I quickly came to love most of these characters, though I have to say that I felt we didn't get a lot of time to truly know Di, and while I care for him because Ana and the others care for him, I couldn't really get invested in his character all that much. Ana is a fantastic heroine, sharp-witted and sharp-tongued, she's a force to be reckoned with, Robb has a deep sense of loyalty to those who deserve it, and Jax is pretty much the personification of my favorite character trope, the cocky yet damaged character. None of these characters are perfect, they each have their flaws, whether it be poor impulse control or an inability to move on, they're flawed, but each has the potential to grow.
Romances
: So, I wasn't a huge fan of one of the biggest romances in this story. See, Ana has feelings for Di, or D09 as he's sometimes referred to as, and whether it was the fact that Ana has these feelings from the beginning of the story, Di's appearance not being very humanoid, the fact that he's a fairly emotionless robot, or some combination of the three, I just couldn't get into their romance. Eventually, it gets to a point where there's hope that I might get invested in their romance, but things happen and the book ends before I can really get invested. The other main romance in this story though, I did really enjoy. Robb, a cocky and rogueish noble, and Jax, the pilot with a dark past, have some really great moments in this story. There's one scene, that kind of reminds me of Star Wars, but their dialogue during that scene was fantastic and I felt there are so many fantastic moments between them in this story, yet not really enough. For what there is, it's fantastic, and it doesn't affect my rating that I want more, I just want more.
World Building
: The world building in this story is fantastic, from the history to the mythology of this world everything was captivating. I don't read too much sci-fi, but this is the sci-fi that I love, space battles, outlaws flying through space, lost royalty, mysteries, I love it all. This story also has major
Cinder
by Marissa Meyer vibes, mixed with a little Star Wars. This is also an Anastasia story after all and while I think this story did a pretty good job in that area, it was how things diverged from the story being retold that really fascinated me. There are some fantasy elements mixed with the sci-fi in some of the best ways I've ever seen and the royal angle of this story and the secrets hidden in Ana's family history are astounding. There's a lot built out in just this one installment, so much that I'm wondering if this might be a duology.
Predictability
: This story is on the predictable side of things, not only with it being a retelling but the foreshadowing was pretty obvious as well. Take, for example, there's something in this story that could have been a truly amazing twist, I mean mind-blowing, but I felt like I got all of the pieces to that puzzle quite a while before it was revealed, there are quite a few twists that went that way, though there were a few times, particularly toward the end where things were more shocking.
Ending
: The final climax of this story is fantastic, it's intense and chaotic. There's a lot that goes into setting it up and everything leading to this final mix of scenes was fantastic. As I said earlier, there are a lot of shocking, and some not so shocking, moments in the end and I pretty much raced through this story until the ending because I could hardly stop. There is a bit of a breath after the final climax but still as things unravel and even though there wasn't really a cliffhanger, the ending does feel too soon, and I'm excited to see where things go.
Rating:
Even though I had a few problems with one of the characters and one of the romances, I still really love this story and cannot wait to dive into the next (and final?) installment!